Practice paper
Corporate actions on Russian securities: Market practice, legislation and proposed changes to the legislation
Journal of Securities Operations & Custody, 5 (3), 276-291 (2013)
Abstract
This paper describes aspects of participation in corporate actions of Russian issuers both for holders of local shares and holders of depository receipts (DRs). In order to demonstrate the main differences, the full life cycle of the annual general meeting and the annual dividend are examined. For every stage, the legal rationale, disclosure aspects, local market practice and order to participate for holders of receipts are considered. Special attention is paid to the problem of recognition of foreign nominal holders as beneficial owners in Russia, as this feature of Russian law has a significant negative impact on the corporate actions processing. Another important topic of the paper is comparison of taxes and fees paid by holders of local shares and holders of depository receipts, which results in different amounts of dividends received by them. At the end of the paper, proposed changes to the Russian legislation and market infrastructure are analysed. Such initiatives as the introduction of a central depository; changes to the system of nominal holding; and introduction of special custody accounts for depository programmes are examined for their ability to improve the quality of corporate actions processing both for holders of local shares and of depository receipts.
Keywords: corporate actions; dividend distribution; General Meeting, record date; Russian central depository; depository receipts; service fee; Russian dividend tax; POA for general meeting
Citation
Kashkin, Anton (2013, January 1). Corporate actions on Russian securities: Market practice, legislation and proposed changes to the legislation. In the Journal of Securities Operations & Custody, Volume 5, Issue 3.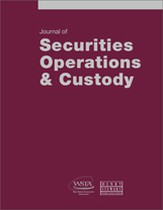 © Henry Stewart
Publications LLP