Practice paper
Remaining 'open' during a crisis: Managing academic continuity at The Open University, UK
Advances in Online Education: A Peer-Reviewed Journal, 2 (1), 6-16 (2023)
Abstract
When the COVID-19 pandemic hit in early 2020, higher education institutions (HEIs) around the world faced an unprecedented amount of complexity and uncertainty, regardless of their mode of delivering teaching, learning and assessment activities to their students. Despite already having robust policies and processes in place for delivering such activities online, distance learning institutions around the world were far from being exempt from this disruption. This paper highlights that the continuity of academic decision making during a crisis affects all institutions and needs to be managed carefully to maintain the expected quality of academic standards and student experience, while protecting the health and well-being of students and staff. By evaluating the effectiveness of The Open University's approach to considering academic issues during the COVID-19 pandemic and considering longer-term implications for the institution, this paper presents a modified version of an academic continuity model to assist other institutions in managing academic continuity during crisis situations. This revised model takes into account the cyclical and ongoing nature of The Open University's response to the COVID-19 pandemic and the impact that prolonged uncertainty can have on applying such a model in practice.
Keywords: continuity; emergency; planning; crisis; quality; decision making
The full article is available to subscribers to this journal (subscription is free).
Author's Biography
Helen Cooke When the COVID-19 pandemic hit, Helen Cooke was leading on the management and development of multi- and interdisciplinary curriculum at The Open University. Prior to that, Helen worked in a variety of professional services roles including the Faculty of Business and Law and Office of the Pro-Vice-Chancellor (Students). This broad experience of research and enterprise, teaching and learning, scholarship and student experience/success, is what led to Helen joining the Academic Strategy and Planning Team in November 2020, just as the UK went back into a second COVID-19 lockdown. Helen's current role involves supporting the Deputy Vice-Chancellor in identifying and monitoring key academic risks across the institution and reporting on mitigation and progress. This includes ensuring that academic continuity is recognised as a specific element of crisis planning and that there is a robust framework in place to assure academic quality and standards in the event of a crisis. Helen is a Senior Fellow of AdvanceHE and an active member of the Association of Higher Education Professionals (AHEP) and Higher Education Strategy and Planning Association (HESPA).
Helen Barton has held a variety of operational and strategic roles during her time at The Open University, including management of operational registration and funding processes; writing and implementing student facing policy, including the University's fee strategy; and numerous projects relating to student registration, student experience and improvements to technology. As a Senior Manager in the University Secretary's Office during the COVID-19 pandemic, Helen supported the University's Academic Implications Group (AIG), which was established to consider and approve temporary changes to academic policy and processes affected by the disruption. More recently — and using the experienced gained in supporting this group — Helen has taken a more specific role in the Assessment, Credit and Qualifications team, leading on the development and implementation of remote exams. Following The Open University's swift move from traditional 'in-person' exams to remote exams during the pandemic, Helen is now working to improve processes, student experience and opportunities to enhance the use of remote exams to ensure they are robust, trusted and contribute to the University's vision and performance objectives.
Klaus-Dieter Rossade is Executive Dean (interim) for the Faculty of Wellbeing, Education and Language Studies (WELS) at The Open University, UK. The faculty has over 35,000 students, studying modules in the faculty's three Schools of Health, Wellbeing and Social Work, Education, Childhood and Youth Studies and Languages and Applied Linguistics, as well as on the University's Access Programme and on modules from the Institute for Educational Technology. From 2019–23, Klaus-Dieter was also Director of the Assessment Programme in the Office of the Pro-Vice-Chancellor (Students), which brings together academic colleagues across the University to improve and innovate assessment practice, including design, marking, feedback, academic integrity and assessment policy. He has led several change programmes related to assessment and student qualification outcomes. He has also chaired many governance committees, internal quality reviews and validation panels for Open University validated partners such as the Arab Open University. Klaus-Dieter's latest research interests are in assessment and change leadership in higher education. For the European Association of Distance Teaching Universities (EADTU), he recently chaired a Special Interest Group on Online Assessment. He brings to all his work more than 30 years of studying, researching and teaching literature, culture, language and ideology in higher education in Germany (Freiburg University) and the UK (University College London and, since 1999, The Open University). He is also a coach and leadership communication consultant.
Citation
Cooke, Helen, Barton, Helen and Rossade, Klaus-Dieter (2023, September 1). Remaining 'open' during a crisis: Managing academic continuity at The Open University, UK. In the Advances in Online Education: A Peer-Reviewed Journal, Volume 2, Issue 1.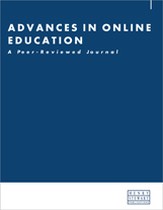 © Henry Stewart
Publications LLP