Practice paper
Exploring British and Finnish pre-registration nursing students' experiences of learning emergency and acute care nursing through a collaborative online international classroom
Advances in Online Education: A Peer-Reviewed Journal, 1 (2), 108-120 (2023)
Abstract
Background: This case study describes the development and evaluation of a collaborative online international learning (COIL) nursing collaboration between Finland and UK in 'Care of the Acutely Ill Patient'. Aim: The aim was to plan and deliver an online programme of learning experiences on a shared professional subject with mixed international students, then evaluate this learning experience with a view to expanding or extending it in future as a core element of our nursing programmes. Method: A steering group led the design format of this short course, aligning it to each university's curriculum and professional goals. Then, a teaching team devised the learning materials and learning sessions. Finally, the steering group evaluated the course. In total there were 38 student participants (Finland n=21, UK n=17). Results: 80 per cent (n= 20) of students felt that their understanding of the subject had increased as a result of taking the course. In total 64 per cent (n=16) felt that the course had enabled them to gain skills to help their future career development. Perceptions of working in mixed international groups was diverse, with challenges of communication, time and perceptions of what constituted 'group work' between UK and Finnish students. Learning new nursing aspects from teachers and peers as well as sharing ideas from another country in a novel way was perceived as beneficial and overall 'uplifting'. Conclusion: This COIL has significant strengths but also some challenges. The outcomes of this case study point to its potential and value within nursing and other professional programmes.
Keywords: COIL; nursing education; course design; virtual exchange
The full article is available to subscribers to this journal (subscription is free).
Author's Biography
Sheila Cunningham commenced her career as a nurse, after which she undertook a BSc in life sciences (human physiology) at Westminster University. Armed with this and a passion for all things physiology, pathology and pharmacology, she taught on nursing and allied health profession programmes for many years and explored pedagogical approaches aimed at improving and enhancing nurses' knowledge and confidence with human sciences. Through her doctoral work on inclusive learning, she linked her teaching and subject knowledge especially around nurse education. She was programme lead for nursing exchange and BSc in European nursing until 2020, hence her interest in nursing international experiences. She is currently Deputy Dean for Research and Knowledge Exchange in the Faculty of Health, Social Care and Education at Middlesex University.
Anna-Kaisa Partanen commenced her career as an anaesthetic nurse in Kuopio, Finland and then worked as an anaesthetic, recovery and ICU nurse in Finland and the UK for ten years. Since completing her MNsc in nursing education (University of Eastern Finland) she has worked as Senior Lecturer at Metropolia University of Applied Sciences in Helsinki, Finland. At Metropolia she teaches mainly medicines management, perioperative nursing, anaesthetics and intensive care nursing, and research methodology and evidence-based practice, as well as supervising Bachelor-level thesis projects. She is currently doing her PhD at the University of Eastern Finland. The topic of her PhD as well as area of interest in research is pre-graduating nursing students' competence in patient assessment and recognising patient deterioration. Other areas of interest in research are various pedagogical approaches, teaching and assessment methods such as simulation, OSCEs, developing knowledge tests, online learning, and international student exchange and learning in multicultural groups.
Citation
Cunningham, Sheila and Partanen, Anna-Kaisa (2023, January 1). Exploring British and Finnish pre-registration nursing students' experiences of learning emergency and acute care nursing through a collaborative online international classroom. In the Advances in Online Education: A Peer-Reviewed Journal, Volume 1, Issue 2.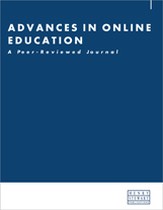 © Henry Stewart
Publications LLP