Practice paper
Earning citizen confidence through a comprehensive approach to responsible and trustworthy AI stewardship and governance
Journal of AI, Robotics & Workplace Automation, 1 (3), 278-284 (2022)
Abstract
Confidence in artificial intelligence (AI) is necessary, given its growing integration in every aspect of life and livelihood. Citizens are sharing both good and unpleasant experiences that have fuelled opinions of AI as an emerging, advantageous capability while also expressing an abundance of concerns that we must address. Clean energy scientific discoveries, the supply of autonomous vehicles that perform with zero carbon emissions, the rapid discovery of chemicals and/or anomalies that generate medicinal value, or the integration of AI in human resource processes for accelerated efficiencies are examples of AI use cases that can save lives and do so at the speed of urgency. The concerns and challenges are to ensure that models, algorithms, data and humans — the whole AI — are secure, responsible and ethical. In addition, there must be accountability for safety and civil equity and inclusion across the entire AI life cycle. With these factors in action, risks are managed and AI is trustworthy. This paper considers existing policy directives that are relevant for managing risks across the AI life cycle and provides further perspectives and practices to advance implementation.
Keywords: confidence; responsible AI; AI ethics; explainable; trustworthy AI; AI life cycle; governance; stewardship; AI risk management; AI assurance; AI-IV&V
Author's Biography
Pamela Isom Pamela K. Isom is Director of Artificial Intelligence & Technology Office at the U.S. Department of Energy. She is a distinct, highly valued Senior Executive whose emphasis is on applied responsible and trustworthy artificial intelligence (AI) to drive innovation, clean energy, equity and energy justice. Principal corporate officer and geospatial leader, Pamela is transforming the use of AI to save lives, fight fraud, deliver ethical, secured outcomes and strengthen our critical infrastructure. She oversees the digital programme and develops risk mitigation policies and standards. Pamela received the prestigious Fed100 award in 2021, AFCEA innovation award in 2020, and federal GEARS in government awards in both 2020 and 2019 for exemplary leadership and results in AI, geoscience and applied strategy, product and portfolio management.
Citation
Isom, Pamela (2022, March 1). Earning citizen confidence through a comprehensive approach to responsible and trustworthy AI stewardship and governance. In the Journal of AI, Robotics & Workplace Automation, Volume 1, Issue 3.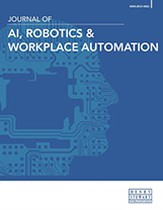 © Henry Stewart
Publications LLP