Practice paper
Ethical AI/ML at Nestlé: From vision to strategy to execution
Journal of AI, Robotics & Workplace Automation, 1 (3), 247-255 (2022)
Abstract
Artificial intelligence (AI) will reshape the source of value creation for consumer packaged goods companies, the creation of new business models and the delivery of value-added services such as customisation at scale. This paper outlines the vision of consumer packaged goods company Nestlé about AI and machine learning (ML), provides an overview of the company's strategy to leverage this technology, and describes the three fundamental pillars to execute on that strategy, that is, to deploy AI at scale: AI/ML as a toolbox to solve business problems, ethical by design AI and a flexible operating model. The paper also provides examples of how Nestlé is leveraging its operating model to scale up and explore high-value use cases, depending on their maturity. For mature use cases, we typically adopt out-of-the-box models, fine-tuned or not to our specific problem, while in the emerging use cases we must conduct proofs of concept to test whether the use case is feasible and to what extent the solution can be industrialised in a near future.
Keywords: strategy; execution; ethics; artificial intelligence; machine learning
Author's Biography
Carolina Pinart is the Global Product Director for new generation technologies at Nestlé, in charge of industrialising emerging technologies across the group, including augmented reality/virtual reality (AR/VR), artificial intelligence (AI), chatbots, advanced nutrition or voice. She also leads Nestlé's company-wide AI Global Strategy Program, as well as the Barcelona Innovation Outpost. She holds a PhD in engineering from the Technical University of Catalonia and has conducted business studies at the London Business School and New York University. Prior to Nestlé, Carolina was the chief operating officer of a New York City-based start-up, where she developed and launched an app ecosystem to match taxi supply and demand in real time. She also led Telehealth and Connected Car product development and new business launches for wireless carrier Telefónica, based in Madrid and the UK, with operations in Europe and Latin America. Carolina started her career as a consultant for Altran in France and worked in research and innovation for Siemens in Germany and for a leading technology centre in Barcelona. Over that period, she published more than 70 papers in international journals and conferences and obtained one patent in diverse areas such as mobile video, wireless communications and optical networking.
Enrigue Mora Enrique Mora is an Artificial Intelligence (Ai) Senior Solutions Architect at Nestlé, bringing AI capabilities to digital products at scale, and has more than 12 years' experience in advanced analytics projects in multinational environments. Currently, he is part of the AI Global Strategy Program at Nestlé and leads the AI Use Cases Roadmap as well as the exploration pillar of the Barcelona Innovation Outpost, in parallel with the implementation of real products ready to be in production at scale. Enrique has a degree in mathematics, a MSc in software engineering and is an associate lecturer in machine learning in two business schools in Barcelona.
Citation
Pinart, Carolina and Mora, Enrigue (2022, March 1). Ethical AI/ML at Nestlé: From vision to strategy to execution. In the Journal of AI, Robotics & Workplace Automation, Volume 1, Issue 3.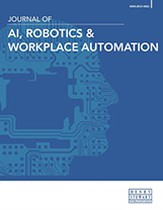 © Henry Stewart
Publications LLP