Practice paper
Step by step: A playbook for AI innovation within commercial real estate organisations
Journal of AI, Robotics & Workplace Automation, 1 (2), 173-184 (2021)
Abstract
Commercial real estate (CRE) lease agreements contain a treasure trove of untapped insights into one of the world's largest asset classes. With commercial leases being the legal instrument for executing and documenting the terms and conditions of hundreds of billions of dollars of CRE transactions each year, the aggregate data housed in these agreements has the potential to inform valuable insights across the world's largest real estate markets. Leases traditionally exist, however, only as paper copies or electronic PDFs, requiring large investments of time and human capital to read, understand, harvest and structure the data from their pages. CRE companies are in a unique position to leverage artificial intelligence (AI) and machine learning (ML) techniques to crack the code on these leases and unlock significant value through digital insights across the marketplace. Pioneering companies will need to surmount several obstacles that have long deterred CRE organisations from embracing these automated workflows. The sheer complexity and variety of the documents' formats, structure and terms, the disaggregation of these documents among market participants, and the general disorganisation of the participants' systems for storing them are all serious challenges. Meanwhile, the investment of time and resources necessary to train an algorithm sophisticated enough to navigate these challenges is a significant ask. This paper provides a playbook of best practices for surmounting these obstacles and achieving successful integration of ML–AI techniques in the CRE industry, enabling internal efficiencies and new avenues of value creation. The paper analyses a case where a CRE service provider was able to get buy-in from stakeholders by defining a project roadmap focused on upskilling pre-existing human capital investments, ultimately creating a business case to leverage ML–AI techniques to enhance data structuring workflows. The results of this project showed that the real value derived from these technologies did not come from the outputs or cost savings alone. The test project created a competitive advantage for the company by pairing the technology with a skilled team. The team brought a 'product mindset' focused not only on learning and developing the technology, but on continually finding new and better ways to use the technology to create a valuable service offering for occupier clients.
Keywords: commercial real estate (CRE); artificial intelligence (AI); data structuring
Author's Biography
Patrick Mcgrath Chief Information Officer and Head of Client Technologies, leads and executes digital transformation at Savills North America. Patrick works across departments to deploy best-in-class systems to integrate and capture key data flows that give the Savills brokerage teams the edge they need to compete in the rapidly changing real estate industry. Among his responsibilities is the continued development of the firm's customer-facing global data visualisation and analytics platform — Knowledge Cubed.
David Morrison , Managing Director, Data Solutions, works with Savills' digital service offerings and client data and solutions, with a primary focus on Savills' artificial intelligence (AI) business development and onboarding client portfolios. David's background in client data and lease administration supports Savills' continued growth and capabilities as a technology-forward company, integrating client and Savills data with innovative tools through Knowledge Cubed.
Jess Johnson , Head of Cross-Border Tenant Advisory — Americas, works with Savills' global tenant representation team to drive innovation and seamless connectivity across the company's operations. Leading the Savills cross-border team, which applies regional best practices, technology solutions and analytic tools to deliver outstanding results for clients, Jess leverages his unique understanding of the Savills occupier services platform to serve clients with multinational footprints and geographically diverse real estate portfolios.
Sara Schuham , Data Solutions Associate, works with the Savills Occupier Services team supporting strategic technology solutions projects. Sara manages the ongoing execution of internal machine learning/artificial intelligence (ML–AI) projects, focusing on maintaining data quality and leveraging the technology for value-add services. Sara also serves as a client coordinator for the company's award-winning analytics platform, Knowledge Cubed.
Citation
Mcgrath, Patrick, Morrison, David, Johnson, Jess and Schuham, Sara (2021, December 1). Step by step: A playbook for AI innovation within commercial real estate organisations. In the Journal of AI, Robotics & Workplace Automation, Volume 1, Issue 2.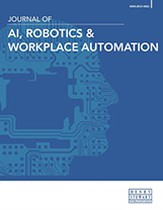 © Henry Stewart
Publications LLP