Practice paper
The future of AI: Generational tendencies related to decision processing
Journal of AI, Robotics & Workplace Automation, 1 (2), 157-172 (2021)
Abstract
Advances in artificial intelligence (AI) have resulted in the automation of human-based decision processing and have become entwined with almost every aspect of our lives. While advantageous in many respects, when conditions permit a decision to take place related to the acceptance, adoption or rejection of embracing AI into one's everyday life, many elect not to do so. Such decisions can be based on a lack of knowledge of how to determine the benefits of such modernisation of thought but can also be the result of specific tendencies associated with different generations. This paper examines three generations — Baby Boomers, Gen Xers and Millennials (born 1946 to 1994; reaching adulthood 1967 to 2015) — who collectively participated in nearly a half-century of some of the most significant technological advances in history. These changes contributed to each of these generations' understanding of, comfort with, and decision making that ultimately determines their attitude toward and rate of adoption of AI. In light of Bourdieu's theory of practice, we examine social models and theories of innovation to better understand decisions associated with each generation regarding their attitudes related to AI — primarily based on their interpretation of perceived benefits offered by such advancements in technology.
Keywords: artificial intelligence (AI); Baby Boomers; decision processing; generational; Gen Xers; Millennials; social theories
Author's Biography
Christopher S. Kayser holds a Master's in criminal justice with a subconcentration in cybercrime investigation and cyber security, a Certificate in cybercrime investigation and cyber security from Boston University, and is an Access Data Certified Digital Forensics Investigator. Chris is a member of Alpha Phi Sigma — the Honors Society of Criminal Justice and an editorial board member of the Journal for Cybercrime Investigation and Cybersecurity. His research interests lie in the area of cybercrime investigation and cyber security, specifically with regard to educating individuals and organisations to reduce their risks of becoming a cyber victim as a result of social engineering. Chris is an advocate of the importance of companies having effective policies and procedures related to cybercrime protection and is actively working with private and government organisations on developing legislation to more effectively address cybercrime on a global basis.
Robert Cadigan is Associate Professor Emeritus, Applied Social Sciences at Boston University. Robert earned his PhD at Boston University in sociology. Robert teaches courses in criminology; rehabilitation and reintegration; freedom; business and the social environment; and a seminar on freedom, technology, environment and society. He is a published expert in technological and social issues regarding emergency medical care, as well as prison education programmes. Robert has also conducted research and served as a consultant for several public health and intervention organisations. He is the former director of MET's Prison Education.
Citation
Kayser, Christopher S. and Cadigan, Robert (2021, December 1). The future of AI: Generational tendencies related to decision processing. In the Journal of AI, Robotics & Workplace Automation, Volume 1, Issue 2.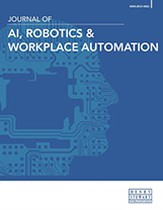 © Henry Stewart
Publications LLP