Practice paper
The evolution of the European Union's Urban Agenda and the morphology of the Pact of Amsterdam
Journal of Urban Regeneration and Renewal, 15 (1), 24-70 (2021)
Abstract
This paper traces the evolution of the European Union's Urban Agenda in pursuit of the headline objective of promoting the development of more sustainable cities and communities, culminating in the signing in May 2016 of the so-called Pact of Amsterdam. The latter seeks to establish codes of good practice in urban planning and development that are not only smart, sustainable and inclusive, but also more explicitly informed by climate change imperatives, and to encourage their formal adoption by the Member States of the European Union (EU). While the EU's prevailing regulatory regime has often appeared somewhat cumbersome, the Pact seeks to challenge the prevailing regulatory environment where this might be impeding the delivery of more appropriate and resilient urban development policies by the respective Member States and/or compromising their successful implementation. The building of greener, smarter and more resilient cities is implicitly seen as the pathway to sustainability and, in the wake of climate change, the promotion and adoption of more climate-friendly urban planning and development protocols is therefore necessarily a key priority. Against this backdrop, the paper addresses the efficacy of the Pact's objectives, and the adequacy of the proposed regulatory framework and associated toolkit to facilitate and incentivise compliance with its ambitions. It is a critical commentary, ie an appraisal of the key stages in the evolution of a European Urban Agenda that seeks to highlight the challenges that were posed to such intervention, not least by the EU's subsidiarity precept, and might continue to threaten any strengthening of the agreed spatial development principles and/or further attempts to unify the regulatory framework across the Union as a whole.
Keywords: EU Urban Agenda; Pact of Amsterdam; cohesion policy; European Investment Bank (EIB); sustainable development; resilient cities; smart cities; climate change; urban development; spatial planning; territorial cohesion
Author's Biography
Brian G. Field Brian Field was for many years a special managerial adviser on urban planning and development at the European Investment Bank (EIB) and therefore, de facto, the Bank's leading urban specialist. He is currently a senior research fellow and visiting Professor at the OMEGA Centre in the Bartlett School of Planning at University College London (UCL).
Jeroen P. R. Bakker Jeroen Bakker joined EIB as a spatial development specialist before transferring to the Smart Development Division of JASPERS, an EU advisory services and technical assistance facility that helps new Member States improve their absorption of EU structural and investment funds (ESIF). He is currently a senior project adviser for The Netherlands Enterprise Agency (RVO), which implements part of that country's official development assistance (ODA) commitment.
Citation
Field, Brian G. and Bakker, Jeroen P. R. (2021, September 1). The evolution of the European Union's Urban Agenda and the morphology of the Pact of Amsterdam. In the Journal of Urban Regeneration and Renewal, Volume 15, Issue 1.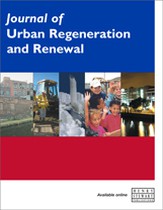 © Henry Stewart
Publications LLP