Practice paper
Brokers are fiduciaries — now what? The new US federal fiduciary best interest of the customer standard of care and its impact on existing FINRA regulation of wrap accounts
Journal of Securities Operations & Custody, 3 (2), 147-165 (2010)
Abstract
On 21st July, 2010, President Obama signed into law the Dodd-Frank Wall Street Reform and Consumer Protection Act (Dodd Frank Act). Included as the Reform Act of the Dodd Frank Act is the Investor Protection and Securities Reform Act 2010 (Reform Act), which directs the Securities and Exchange Commission (SEC) to, within six months:•present to Congress a study to evaluate the effectiveness of existing legal or regulatory standards of care for brokers providing personalised investment advice and recommendations about securities to retail customers;•determine whether there are any shortcomings in such standards that should be addressed by rule or statute, and, assuming such shortcomings are found;•conduct a rulemaking which will almost certainly impose a heightened, but still limited, fiduciary customer 'best interest' standard of care upon brokers offering personalised investment advice to retail customers.Although the Reform Act contemplates that a new fiduciary duty will be imposed upon brokers only if the SEC study finds that the present system is defective, the reality is that such a finding is a foregone conclusion. The SEC has already repeatedly testified before Congress that, in its opinion, there is an urgent need to harmonise the regulation of brokers, at least brokers offering wrap accounts, and investment advisers (IAs) which offer a similar product in the form of separately managed accounts (SMAs). This paper assumes that, despite the requirement that it conducts yet another study, the SEC will not change its conclusion that harmonisation of regulation of wrap accounts and SMAs is necessary.Consequently, as a result of the enactment of the Reform Act:•the new 'best interest' fiduciary delineated by the Reform Act will entirely displace the existing 'suitability' standard now imposed by the Financial Industry Regulatory Authority (FINRA) regulations upon brokers who offer wrap accounts;•the limited duration of a broker's obligation to conform to this fiduciary standard of care provided for in the Reform Act will likely be available only to traditional commission-based brokerage relationships;•brokers offering wrap accounts, who provide continuing investment advice to their customers, will likely be subject to new ongoing fiduciary duties that will require them to continuously monitor both their clients' accounts and their existing recommendations made to clients under standards heretofore applicable only to investment advisers;•FINRA regulation of wrap accounts, therefore, must be extensively revised not only to incorporate a fiduciary duty of care but also to codify and provide clear guidance on prudent investment management practices with respect to wrap accounts; and•FINRA must also promptly act to meaningfully educate both brokers and, importantly, FINRA arbitrators, on the requirements of the new standards.
Keywords: FINRA; fiduciary; broker; wrap accounts; prudent
The full article is available to institutions that have subscribed to the journal.
Already a subscriber?
Review these options
Citation
Miller, Daniel M. and Maloney, Eugene F. (2010, August 1). Brokers are fiduciaries — now what? The new US federal fiduciary best interest of the customer standard of care and its impact on existing FINRA regulation of wrap accounts. In the Journal of Securities Operations & Custody, Volume 3, Issue 2.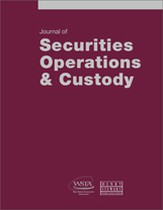 © Henry Stewart
Publications LLP