Practice paper
Counterparty risk management for today and the future
Journal of Securities Operations & Custody, 5 (3), 203-211 (2013)
Abstract
Asset managers that use financial institutions for trading and custody have always had the notion to ask what would happen if the institution were ever to fail. Today, the notion of managing trading and custody risk of a particular banking institution is often called 'counterparty risk'. While the idea of managing counterparty risk is not new to recent days — clients through the Great Depression were certainly victims of counterparty risk — the level of awareness has definitely increased through the 2008 financial crisis. To much surprise, banks with long established histories became insolvent. In response to the 2008 crisis, managers have made a more concerted effort to diversify the number of institutions with which they do business. Many managers who did not have this diversification were unfortunately negatively affected by the failure of institutions and, ultimately and unintentionally, hurt their clients. This paper discusses the framework of how different institutions work with managers. Depending on the type of relationship, institutions pose different kinds of counterparty risk to asset managers. Finally, the paper also discusses the past, present and future options that managers have to better manage counterparty risk.
Keywords: counterparty; collateral; margin risk; prime broker; custody
Citation
Tsai, Brian J. and Magidson, Matthew A. (2013, January 1). Counterparty risk management for today and the future. In the Journal of Securities Operations & Custody, Volume 5, Issue 3.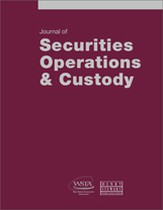 © Henry Stewart
Publications LLP