Practice paper
Risk perceptions of electronic health records
Cyber Security: A Peer-Reviewed Journal, 2 (3), 270-285 (2018)
Abstract
The increasing use of electronic health record (EHR) systems and networked medical devices by health institutions has put cyber security at the forefront of the healthcare landscape. Cyber security aims to prevent criminals from gaining access to networks to use stolen information for profit and/or to terrorise.1 EHR systems, which contain patients' personal health information including their demographics, are becoming especially attractive to cybercriminals, and professionals who use EHR systems are largely unaware of many cyber-related risks. Unfortunately, the consequences could be extremely serious for both institutions and patients when sensitive patient information is released or devices are tampered with. Using a ten-question survey, this study investigates how professionals, ranging from physicians to emergency managers to information technology (IT) specialists, access and use EHR systems and medical devices, how they perceive cyber security risk in healthcare, and determines any significant differences between the survey choices among the respondent groups. Due to the size of the respondent groups, non-emergency managers' opinions are compared to emergency managers' opinions. An emergency manager leads mitigation, planning, response and recovery efforts for natural, technological and man-made disasters. These findings will then be compared to what is known of the reality of cyber security vulnerabilities. In the results, it was found that there were discrepancies between the perceptions and realities of EHR end users, although these discrepancies varied by question and user group.
Keywords: perceptions or optics; electronic health records (EHR); end users; medical devices; emergency manager; keylogger; phishing
The full article is available to institutions that have subscribed to the journal
Already a subscriber?
Review these options
Author's Biography
Patricia Le attended the University of California, Los Angeles (2013–16) as a biology major and graduated with Latin honours and as a member of Phi Beta Kappa. Patricia's passion lies in medicine, where she hopes to bridge the gap between the clinical and public health aspects of medical institutions. This interest has led her to researching under the Los Angeles Healthcare Security Systems Project, where she compared end user perception and reality of cyber insecurity for EHR systems. As quality control coordinator for the hospital-based Care Extender Internship Program, Patricia also accumulated data from surveys to improve the programme at UCLA's Ronald Reagan and Santa Monica Hospitals. She has also been part of various organisations that help underserved demographics. Patricia served as wellness coordinator and peer counsellor in Southeast Asian Campus Learning Education and Retention (SEA CLEAR), a student retention project at UCLA. In this project, she peer-counselled low-income immigrant students and led workshops advocating for marginalised groups. Some workshops include discussing barriers to healthcare access among older generation southeast Asians and exploring the social and health inequities for Southeast Asians who identify as part of the LGBTQ+ community. Patricia has also volunteered at a senior centre, where she served lunch and played piano for the elderly community. She is currently attending Creighton University School of Medicine and hopes to continue pursuing her interests in public health research and service.
Michael Tsiang received his PhD from Stanford University and is currently a lecturer in the statistics department at UCLA. Michael's research interests are primarily statistics education, environmental statistics and nonparametric statistics. Michael also received a BA in mathematics from UC Santa Cruz, an MS in mathematics from the University of British Columbia, and an MS in statistics from Stanford. He enjoys running, swimming, singing and coffee.
Natan Hekmatjah is a fourth-year undergraduate pre-medical student majoring in psychobiology at the University of California, Los Angeles (UCLA). Natan graduated at the top of his high school class with highest honours and received many distinctive awards, such as the President's Education Award for outstanding academic excellence. Throughout his undergraduate career, Natan has received the UCLA Dean's Honors List in recognition of high scholastic achievement for numerous quarters. Natan has had clinical experience with patients at the UCLA Ronald Reagan Medical Center and has conducted research at the Johns Hopkins School of Medicine. He helps fight food insecurity on and off campus through his involvement with Swipe Out Hunger at UCLA. He has also aided disadvantaged students to reach their academic and professional goals as a co-founder of Los Angeles Scholars for Change at UCLA. Natan is currently involved with two research teams. The first research group is under the Los Angeles Healthcare Security Systems Project in which he collects data on emergency and disaster preparedness. In his second research group, he studies the effects of Point of Care Ultrasound at the Ronald Reagan UCLA Medical Center. Natan plans to attend medical school after graduating in hopes of further serving his community one day.
Peter Katona is Clinical Professor of Medicine at the David Geffen School of Medicine at UCLA and Adjunct Professor of Public Health at the UCLA Fielding School of Public Health. He has worked at the Centers for Disease Control and Prevention and has held appointments at LSU and the LA County EMS Agency. Peter is a member of the LA County Disaster Coalition Advisory Committee, the IDSA's National and Global Public Health Committee, and served on the FDA's Anti-Infective Drugs Advisory Committee. Peter was chairman of the UCLA Infection Control Committee. He holds a seat at the LA City Emergency Operations Center. Peter has authored articles on medical informatics, medical education, influenza, polio, nutrition, bioterrorism, disasters and the future of healthcare. He is a member of the Council on Foreign Relations. Peter is an internationally recognised authority on bioterrorism, teaches a course at UCLA on terrorism and has edited two books on the subject. He maintains a private practice in infectious diseases. Peter sits on the boards of the LA Emergency Preparedness Foundation, the Good Hope Medical Foundation, the Toffler Trust and the University of Florida School of Medicine. Peter is co-chair of the Future Gazing Work Group of the HHS Healthcare Sector Coordinating Council's Cybersecurity Working Group. He sits on the National Academies of Science, Engineering and Medicine Division on Earth and Life Studies (DELS) Committee.
Citation
Le, Patricia, Tsiang, Michael, Hekmatjah, Natan and Katona, Peter (2018, December 1). Risk perceptions of electronic health records. In the Cyber Security: A Peer-Reviewed Journal, Volume 2, Issue 3.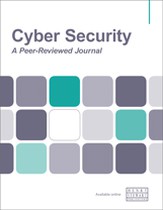 © Henry Stewart
Publications LLP