Practice paper
Serving valid notices: Not as simple as it first appears
Journal of Building Survey, Appraisal & Valuation, 7 (4), 339-349 (2019)
Abstract
Serving valid notices is the essential first step in progressing a request to exercise rights granted by the Party Wall etc. Act 1996. It is an entirely sound assumption that if an initial party wall notice is invalid, then any resultant associated award served must also be invalid and any works progressed by way of that award could be found to be unlawful. Serving notices is often perceived as an inconvenient and generic exercise to which only limited attention and time is afforded. In these overly litigious times, a review of the common pitfalls and misconceptions related to the serving of party wall notices is essential. When considering 'serving valid notices', it is necessary to consider both the means of creating valid notices and the means by which such valid notices are served. The following key areas of party wall practice and associated case law are therefore explored in this paper: the sections of the Act which prescribe service requirements; types of notices — Line of Junction, Section 2, Adjacent Excavation and all other lesser used notices and how to ensure they are validly drafted; ensuring notices are served on the correct person and/or legal entity; validly noting owner details. Key findings are: a detailed description of proposed notifiable works is essential; the service provisions of Sections 15(1) and 15(2) must be taken in their literal sense; notices served on a 'body corporate' must be served on the 'Secretary or Clerk'; Section 1 notices must accurately describe the intended wall and differentiate between Section 1(2) and 1(5) rights; Section 6 notices must include detailed drawings and elevations and full details of any strengthening or safeguarding works if proposed; notices must always list all owners in full; always record proof of service; building owners must be asked if it is intended to change the building owner entity; Section 12(1) notice must be served before any associated notifiable works commence.
Keywords: serving; notices; validity; injunction; party wall; excavations
The full article is available to institutions that have subscribed to the journal.
Already a subscriber?
Review these options
Author's Biography
Rob French BSc (Hons) MSc (Proj Man) FRICS is an equity partner of Delva Patman Redler LLP, Chartered Surveyors. Rob joined Delva Patman Redler LLP in 2015. Prior to that he worked for Earl Kendrick Associates, Knight Frank, Daniel Connal Partnership and Martin Arnold Associates. Rob obtained a BSc with Honours in building surveying from Greenwich University in 2005 and a Master's Degree with distinction also at Greenwich University in 2013. He became a Member of the Royal Institution of Chartered Surveyors in 2006 and a Fellow of that institution in 2014. Throughout his career as a chartered building surveyor Rob has undertaken a full range of building surveying work, including an extensive involvement in all aspects of neighbourly matter work. For the last five years has specialised predominantly in matters relating to neighbourly law, particularly in relation to party wall matters, boundary disputes and access agreements. He is a member of the Pyramus & Thisbe Party Wall Club and has provided professional presentations on neighbourly matters practice.
Citation
French, Rob (2019, March 1). Serving valid notices: Not as simple as it first appears. In the Journal of Building Survey, Appraisal & Valuation, Volume 7, Issue 4.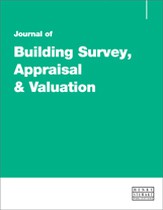 © Henry Stewart
Publications LLP