Case study
Embedding equity in airport operations and practices: A case study
Journal of Airport Management, 17 (4), 343-358 (2023)
Abstract
Government institutions play a key role in advancing equity or perpetuating systemic inequities. As part of a long-standing journey, the Port of Seattle became the first port authority in the US to establish an Office of Equity, Diversity, and Inclusion (OEDI) in 2019. Since this milestone, the country has navigated not only a pandemic, but also a period of racial reckoning, which accelerated the Port's commitment and actions. This paper explores why the Port believes addressing equity and anti-racism is mission critical as a public sector institution and how doing so has the potential to have a positive impact on its mandate and outcomes. In addition, the paper explores three areas in which the Port has initiated systematic changes in efforts to embed equity in its operations and practices.
Keywords: equity; race; racism; BIPOC (Black, Indigenous and people of colour); best practice; budget; hiring; represented workers
Author's Biography
Jay Doran has, since 2020, served as the Engagement and Communications Manager for the Port of Seattle's Office of Equity, Diversity and Inclusion. He has nearly 15 years' experience with anti-racist organising, coalition building, policy and communications. Jay holds a Master's in social work from the University of Washington and a BA in cultural anthropology and psychology from Duke University. Born and raised in Richmond, Virginia, Jay loves all types of southern cooking, especially pulled pork and collard greens. He has lived in Seattle since 2010, and while he will never forget his roots, he firmly believes that the west coast is the best coast. Jay is a lover and nerd of all things science fiction, because through science fiction we can imagine and create endless possibilities, including a world full of justice and liberation. Jay is committed to advancing racial equity and creating positive change for all. He believes that we all have an imperative to actively heal and undo the wrongdoings of our country's past and present, and he believes that if we can work together, this is possible.
Tania Park currently leads as the Systems Change Program Manager at the Port of Seattle, following organisational change management roles with the Puget Sound Clean Air Agency and the National Outdoor Leadership School. Other facets of Tania include fumbling her way through parenthood, figuring out how to get back into the joy of cooking, and seeking solace in the mountains of the Pacific Northwest.
Citation
Doran, Jay and Park, Tania (2023, September 1). Embedding equity in airport operations and practices: A case study. In the Journal of Airport Management, Volume 17, Issue 4.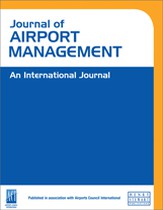 © Henry Stewart
Publications LLP