Opinion/Comment
The challenges facing the architectural technologist profession
Journal of Building Survey, Appraisal & Valuation, 5 (4), 302-308 (2017)
Abstract
This paper is based on a seminar considering the key challenges facing the construction industry from a designer's perspective. The chosen topics: BIM and health and safety – both significant and changing rapidly. BIM has been around in some form a long time. Getting industry to see the benefits and realise these has been the challenge. The construction industry is notoriously fragmented, argumentative and risk-borne. BIM brings the opportunity for that to be cast away in a move that both Eagan and Latham failed to do. The industry has in many areas taken up the challenge. Most importantly this is supported by government. This continues today and the push towards adoption by everyone in the industry at some level is still on. How this will change the role and influence of the designer is the key question. Equally we have come a long way in the industry's approach to health and safety. While statistics show significant progress has been made, the situation is still far from perfect; widening the scope to look at health and constructions impact means there is still much to be accomplished. Designers have a significant role to play in briefing the client and guiding them through the project. There is no reason why the construction process should injure or harm anyone – that should be our goal. All designers have an ethical and professional duty to see that is the case.
Keywords: BIM; building information modelling; PAS 1192; CDM 2015
Author's Biography
Peter L. Caplehorn is Policy Director and Deputy Chief Executive of the Construction Products Association, where he leads the work on policy and regulatory framework – particularly for technical and sustainability issues. A chartered architect with more than 35 years of experience in construction, Peter has for more than 15 years engaged with the wider industry in a number of key national roles. He currently works closely with the Royal Institute of British Architects, British Standards Institution, Building Research Establishment, Health and Safety Executive, as well as DCLG BEIS and DEFRA. Peter is the deputy chair of the Building Regulations Advisory Committee (BRAC) and currently chairs CB- (the British Standards Institution's strategic committee for construction). His main focus recently has been supporting the digitalisation of the construction industry and ensuring that regulations and standards are fit for purpose.Prior to joining the Construction Products Association, Peter was Technical Director at the award-winning architectural practice Scott Brownrigg, where he was responsible for all areas of technical compliance, regulations, health and safety and quality control. He has worked on a range of projects such as offices, housing, schools, industrial plants and airports. Peter is the author of Whole Life Costing: A New Approach (Routledge, 2012) and has frequently published papers for the RIBA Journal, Building Design, Building and others. His latest book Health and Safety and the RIBA Plan of Work was published in June 2016. He has given evidence at several All Party Parliamentary Enquiries, and appeared on a number of television and radio interviews and live event programmes, including Grand Designs Live. In 2015 Peter was delighted to receive an honorary membership from CIAT, and in 2016 an honorary membership from IFE. Peter spent eight years as an RIBA Council member and currently chairs RIBA Regulations and Standards Group, the CIC Health and Safety Committee, the BSI Construction Strategy CB-, among others.
Citation
Caplehorn, Peter L. (2017, March 1). The challenges facing the architectural technologist profession. In the Journal of Building Survey, Appraisal & Valuation, Volume 5, Issue 4.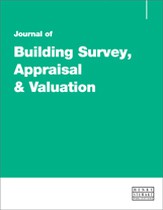 © Henry Stewart
Publications LLP