Practice paper
Communities of work: Creating place in the workplace
Corporate Real Estate Journal, 12 (1), 76-94 (2022)
Abstract
As we have all observed, the COVID-19 pandemic has changed our relationship to work and where work happens for the foreseeable future. With this understanding comes the need to re-evaluate how we use the workplace and what the workplace means to the people using it. While people have found they do not need the workplace to necessarily do all of their work, they have come to acknowledge that they do miss people and the social interaction and collaboration enabled through physical closeness in a shared place — their community of work. In rethinking the workplace, other design-related fields and areas of scholarship can provide important insights regarding the intersection of people and place in communities, organisations and companies. For instance, it is possible to look to the fields of both urban planning and urban design for insights as to how to structure and sustain communities while creating experiences that support connections, reflect culture and bring people together through shared meaning. Tied to these fields is the practice of community design, which looks to use physical design to truly support and celebrate the sociocultural aspects of communities. Lastly, the theory of place provides an understanding of why the difference between generic space and a community-reflective place is critical to the success of communities. Together, these three lines of thought have helped inform a burgeoning theory of communities of work. Fifth Third Bank's transformation of its mid-20th-century campus in the heart of downtown Cincinnati serves as an early, real-life example of this theory in action.
Keywords: workplace; community; neighbourhood; culture; identity; place; design
The full article is available to institutions that have subscribed to the journal.
Already a subscriber?
Review these options
Author's Biography
T. Patrick Donnelly AIA, LEED AP, MCR.h is an Architect, Partner and Client Leader at BHDP Architecture, and an expert in the strategic design of the workplace. He is nationally recognised for connecting organisational culture and work process improvement to the design of space, and he has facilitated research efforts with Rex Miller, resulting in the publication of two books: Change Your Space, Change Your Culture and The Healthy Workplace Nudge. Patrick served on the Board of Directors for CoreNet Global from 2011–14 and has been awarded top faculty honours at CoreNet Global Learning consistently since joining the faculty in 2000. In 2019, Patrick was inducted into the CoreNet Distinguished Leaders Circle — a prestigious honour designed to pay tribute to members who have demonstrated a lifetime of leadership that has helped define and shape the corporate real estate profession. An accomplished teacher, public speaker and storyteller, Patrick has presented at more than 30 professional conferences and workshops across the USA over the last ten years. Past presentations include 'The Importance of WP Strategy and Design Thinking in Corporate Real Estate' at MIT Center for Real Estate in 2019, 'Co-Creation Lab: Re-imagining the WP Experience' at the CoreNet Global Summit 2019 and 'Leading Well – Healthy People, Places and Performance' at WorkTech 2018.
Justin Ferguson AIA, PhD joined BHDP as a Lead Strategist after more than two decades of leading projects, researching and teaching community design and planning. He has had the opportunity to work with a great variety of organisations and non-profits as well as many cities, towns and neighbourhoods across the US. Justin has been recognised as an AIA Blueprint for Better Communities Champion and an AIA Design Justice Advocate. Through the US Conference of Mayors, he has served as an expert resource team member for the Mayors' Institute on City Design as well as hosted a regional session. Justin has served as the Regional Center Hearing Examiner for the City of Indianapolis reviewing proposed high-impact projects for downtown. He is the former Assistant Dean of the College of Architecture and Planning at Ball State University, where he also served as the director of the Master of Urban Design (MUD) programme as well as the founding Executive Director of the Center for Civic Design, a non-profit community design centre in Indianapolis. Justin has shared his insights on community design and 'place' across various speaking engagements such as the AIA Conference on Architecture and EDRA along with numerous conferences, public events and his doctoral dissertation.
Chris Collett RA, LEED AP has, since joining BHDP in 2005, become a valuable and versatile team member for workplace and retail clients by leading design, project management and consultant coordination for large complex projects. He has partnered with Fifth Third Bank's workplace design team on many projects, including Project Connect at Fifth Third's headquarters. Drawing from his experience on convergence teams, he has co-authored articles and presentations on the power of integrated design. Furthermore, Chris was a guest on the Trends + Tensions podcast to speak at length on Fifth Third's connection to community through the design of its newly renovated headquarters.
Valerie Garrett MBA ASDI, NCIDQ, IIDA has spent her career studying the intersection of people and place. She is passionate about cross-functional design and a workplace experience that supports and has an impact on positive culture. Her career has spanned nearly 25 years across multiple disciplines of design, including facilities management, change leadership, product development support, branded environments and design leadership, all with a human-centred focus.
Thomas Neltner serves as Director of Enterprise Workplace Services and Chief Security Officer for Fifth Third Bank. He leads a team that has responsibility for the real estate portfolio and physical security across the enterprise. He is responsible for all related planning, acquisition, design, construction, physical security and communications/workplace experience related to workspace. Within the portfolio, he is responsible for lease administration, facility management and related operations, portfolio optimisation, as well as safety and security for the workplaces.
Citation
Donnelly, T. Patrick, Ferguson, Justin, Collett, Chris, Garrett, Valerie and Neltner, Thomas (2022, September 1). Communities of work: Creating place in the workplace. In the Corporate Real Estate Journal, Volume 12, Issue 1.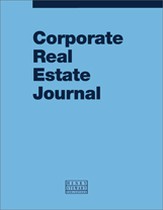 © Henry Stewart
Publications LLP