Practice paper
Comparing social style platform brand and brand community social content: A machine learning-based lexical analysis
Journal of Brand Strategy, 11 (1), 43-64 (2022)
Abstract
This paper discusses the social media posts generated by style brands and their brand communities on Instagram and Twitter relative to social commerce integrations — the combined nature of brands, online brand communities and social platforms referred to here as social style platforms (SSPs). To accomplish this, 9,221 SSP brand posts and 63,397 SSP brand community posts were captured across Instagram and Twitter relative to six highly engaged SSPs. The results indicated that style-based content themes shared on SSP brand accounts and SSP brand community accounts were greater in strength than many other themes; that frequent brand mention content themes were more likely to be congruent across data sets; that some content theme incongruities existed between brands and brand community posts relative to exchange actions and social contest references; and that some content topics were proliferated, resonated and reciprocated. Additionally, direct brand mentions and brand/self-connections played a unique role in how social style brands and brand communities posted within SSPs as they engaged in brand support by talking about the brand and brand community members regularly. Based on these findings, this paper recommends that future SSP brand managers encourage brand communities to discuss style relative to brand more often than buying behaviours as a way to enhance and grow online brand community membership.
Keywords: social style platform; lexical analysis; s-commerce; brand communities; conflict of interest
The full article is available to institutions that have subscribed to the journal.
Already a subscriber?
Review these options
Author's Biography
Curt A. Gilstrap Curt Gilstrap, PhD, is Associate Professor of Business Communication within the Romain College of Business at The University of Southern Indiana. His research interests include digital brand marketing, strategic social media, big qualitative data, MARCOMs and teams. He has published and presented on all of these as well as myriad strategic and organisational communication topics. His current investigations include the impact social media brand communities have on brand firms and social commerce platforms, as well as the ways online teams conceptualise their work.
Morgan Hoey is the Senior Director of Training, Multimedia and Consulting at AVIAN, a Department of Defense professional services company. Since 2016, she and her team have created videos, virtual tours and digital learning experiences to cultivate brand awareness and employee engagement. She received her master's degree in Communication from Purdue University, focusing her studies on the intersection of communication strategy and integrated marketing. Morgan is passionate about designing multichannel communication and training solutions that inspire employees and redirect organisational energy for meaningful change.
Natasha Danielle Smith is a Director of Communications on the Brand & Communications team at Voya Financial, a financial, retirement, investment and insurance company based in New York City. She crafts communication strategies and drives crisis communication, executive communication and external communication for the financial services firm. Previously, Natasha worked in the advertising industry as a strategic communications manager for Havas Group, a France-based agency, and for Interpublic Group of Cos., the fourth largest advertising holding company by net revenue, with renowned networks such as FCB, McCann and MullenLowe. She was also the editor of VaynerPublishing, the content marketing arm of VaynerMedia, an independent ad agency in New York. Natasha has been a writer and producer at several news outlets, including Axios, CNN, NBC, News 12 New Jersey and WPIX in New York. She was also a senior editor at Haymarket Media, a UK-based magazine publisher that focuses on the advertising, marketing and public relations industries. Smith earned her Master of Science from the Brian Lamb School of Communication at Purdue University in West Lafayette, Indiana, where she studied communication with a major in advertising. She earned her bachelor's degree in journalism at the University of Georgia in Athens, Georgia.
Sandy Cheng has a passion for strategic communication. Towards that end she recently obtained a master's degree in communications from Purdue University. She currently works at a publicly traded company that specialises in Autonomous Drive as the primary communication interface between the executive team and the rest of the company.
Citation
Gilstrap, Curt A., Hoey, Morgan, Danielle Smith, Natasha and Cheng, Sandy (2022, June 1). Comparing social style platform brand and brand community social content: A machine learning-based lexical analysis. In the Journal of Brand Strategy, Volume 11, Issue 1.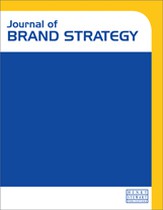 © Henry Stewart
Publications LLP