Practice paper
Plaster beetle (psocid) infestation in buildings : Environmental management and control — a pragmatic approach
Journal of Building Survey, Appraisal & Valuation, 11 (1), 6-15 (2022)
Abstract
Plaster beetles (psocids) are active stocky and soft-bodied insects that are commonly found in new-build apartments, flats and housing blocks. They are also commonly called barklice or booklice because of their superficial resemblance to certain species of lice, and because they are found, sometimes in very large numbers, on mouldy books and papers in damp buildings or their basements and under loose, damp bark. Plaster beetles are either pale grey or pale brown in colour and may or may not have wings. They are common but harmless, unpleasant nuisance pests. Many live on bark and leaf surfaces feeding on algae, fungi or lichens. Others are found in leaf litter or in caves. A small number have extended their range to include buildings and building materials such as thatch, stored food stocks and museum exhibits. Plaster beetle infestation is mainly caused by damp and residual moisture, resulting in high levels of relative humidity (> 65–75 per cent) in the structural voids, ducting and insulation thereby allowing mould infestation. Psocids primarily feed on fungi and moulds for a few months in newly built houses after the completion of a building. Spraying with chemical treatments will deal with the symptoms of the problem but will not deal with the underlying causes of the infestation, namely damp, residual moisture and moulds. Heating treatment offered by some companies, whereby the building is heated to 45°C, should kill off psocids in the building; however, this does not address the underlying cause(s) of the problem and there is a risk of reinfestation. The author has advocated non-destructive investigations of buildings combined with correct diagnosis and identification of type and viability of both plaster beetle and mould infestation, as not all mould infestations are equally toxic or pathogenic. The author strongly believes, based on scientific, practical experience and successful case studies over the last 35 years, that environmental control of plaster beetle infestation and preventative maintenance are preferable to remedial conventional chemical spraying treatments. Rectifying building defects combined with drying out the building fabric and preventative maintenance should in most cases forestall the need for major interventions, and it is beyond doubt that these steps reduce the risk of reinfestation in buildings. The environmentally sustainable approach and the ongoing monitoring of the environmental conditions in buildings ensures the long-term health of building materials, health of the occupants and structures.
Keywords: plaster beetles; psocids infestation; environmental monitoring; non-destructive inspection; mould risk assessment; psocids management and control
The full article is available to institutions that have subscribed to the journal.
Already a subscriber?
Review these options
Author's Biography
Jagjit Singh PhD is a building mycologist and pathologist and a director of Environmental Building Solutions Ltd (EBS). He specialises in building health problems, heritage conservation and environmental issues and has more than 33 years' hands-on experience in surveying historic buildings. Jagjit has carried out environmental surveys for dry rot, wet rot, moisture, damp and decay, moulds, environmental health surveys and monitoring historic buildings, and provided recommendations for environmental control. EBS's reputation in non-intrusive investigations for dry rot, wet rot, timber decay, damp, hazardous materials surveys, heritage building investigations and the development of innovative techniques — including recommendations for environmental management sympathetic to the building fabric finishes and components and the non-use of chemicals and cementitious tanking materials — is well respected by conservation and heritage authorities. Jagjit has published in excess of 250 technical papers and communications, contributed to books and lectured widely on care and conservation of collections, building pathology and building health problems, covering wide areas including fungal infestation and environmental control, timber decay in buildings, damp and decay in buildings and drying out buildings after fire and water damage, environmental monitoring and control of moisture, mould and biological contaminants, Indoor air quality and health implications in buildings. Jagjit has edited several books including Building Mycology: Management of Decay and Health in Buildings, Environmental Preservation of Timber in Buildings, Allergy Problems in Buildings and Environmental Monitoring of our Cultural Heritage and Sustainable Conservation Solutions. Jagjit is a BBC expert and has appeared twice in the Raising the Roof series. He is a former president of the International Society for the Built Environment (ISBE).
Citation
Singh, Jagjit (2022, June 1). Plaster beetle (psocid) infestation in buildings : Environmental management and control — a pragmatic approach. In the Journal of Building Survey, Appraisal & Valuation, Volume 11, Issue 1.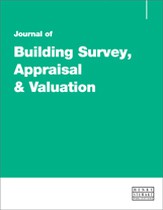 © Henry Stewart
Publications LLP