Case study
More than a call centre: Creating a family-centric experience to increase access and revenue
Management in Healthcare: A Peer-Reviewed Journal, 6 (3), 206-221 (2022)
Abstract
The journey towards centralising any business support function in any organisation is challenging and often marked by turf battles and the inclination to lean towards the status quo. For healthcare organisations, in particular, to move towards centralising any support function is to confront the complexities of a care delivery system. There is sensitivity with every part of the patient's journey before the patient is seen at their appointment (with referral management, scheduling and financial clearance), to ensure that critical care needed is not delayed. Especially for organisations that have traditionally run a decentralised model with departments operating under their own rules, hearing the word 'centralisation' is often not well received and is met with resistance from faculty and staff. This paper provides an overview of one organisation's journey towards building an efficient, centralised model, in a healthcare organisation managing complex subspecialities, and describes how the COVID-19 pandemic provided a platform to showcase the strength of centralisation, a transition into a remote work environment and a fast track for ambulatory operations to 'buy-in' to the centralised model. Although there is still a long road ahead to fully centralise services in the organisation, several successes and strategies (such as establishing dashboards, key performance indicators and a culture of performance accountability) will be shared to help lend ideas and insight to other organisations looking to move towards centralisation. Building a strong foundation that maximises efficiency while remaining resource neutral serves as a win for both the organisation and the patients and families served. Ultimately, the investments made to establish and optimise The Appointment Center at Children's Hospital Los Angeles has improved referral turnaround time, call abandonment rates, increased access, utilisation and revenue for the organisation.
Keywords: call centre; cost-effectiveness; organisational efficiency; centralisation; remote work
Author's Biography
Connie Lee is a board-certified healthcare executive with more than 10 years' experience working in the United States' largest integrated healthcare system at the facility, regional and national levels. In her current role as the Director for the Appointment Center at Children's Hospital Los Angeles, she is responsible for leading change in a complex paediatric ambulatory system to provide a seamless experience through referral, scheduling and financial clearance, enabling patients (of all insurance types) to receive timely access to the care they need. She has successfully developed innovative programmes, increased operational efficiencies and cultivated nationwide partnerships, most notably with the Big Data Scientist Training Enhancement Program (BD-STEP) at the Veterans Affairs(VA) to advance translational care activities. Connie has a bachelor's degree in Public Health from the Johns Hopkins University and a master's degree in Public Health from Yale University and is completing her Six Sigma Black Belt Certification from USC Viterbi School of Engineering.
Scott Lieberenz joined CHLA in 2016 and serves as its Senior Vice President and Chief Financial Officer. In this role, he oversees the functions of accounting and financial reporting, financial planning and budgeting, treasury, revenue cycle, decision support, payer contracting, supply chain management and health information management. Prior to joining CHLA, Scott served as Senior Vice President of Financial Services for Vidant Health, a US$1.6bn, not-for-profit hospital system serving patients in eastern North Carolina, comprising eight hospitals and numerous physician practices, home health, hospice, wellness centres and other healthcare services. He also previously served as Chief Financial Officer at Valley Baptist Health System in Harlingen, Texas. Scott has a bachelor's degree in Business Administration from the University of Texas at Austin and a master's degree in accounting from Texas Tech University. He is a certified public accountant and has a Six Sigma green belt certification.
Brandon Mouton is a healthcare administration professional with over 10 years of experience in leading the day-to-day operations of both clinical support operations and revenue cycle management with the goal of ensuring the delivery of high-quality, cost-effective and efficient patient care. Prior to joining Children's Hospital Los Angeles, Brandon held analytical and supervisory positions at both Cedars-Sinai Medical Center and Houston Methodist Hospital. In these roles he was instrumental in improving processes and workflows, successfully implementing dashboards and KPI metrics for revenue cycle improvement and working collaboratively with cross-functional teams in minimising and reducing payer claim denials. Brandon earned his bachelor's degree in Business Administration from Morehouse College and a dual master's degree in Healthcare Administration and Business Administration from University of Houston — Clear Lake. He is a member of the Southern California Chapter of HFMA and American College of Healthcare Executives.
Christine Snell is a healthcare professional with extensive experience in clinical operations and revenue cycle management. Currently, as the Manager for the Appointment Center at Children's Hospital of Los Angeles, she has further developed transparent metrics to increase productivity, decrease call centre abandonment rates, implemented new workflows to improve the scheduling and referrals process, and applied her knowledge of facility and physician billing to maximise reimbursements opportunities based on services rendered. As a member of leadership, Christine has collaborated with various department managers/administrators, clinical providers and employees to achieve the common goals of providing excellent patient care, employee satisfaction and resource management. Her team-oriented approach, passion for helping others, optimism and results-driven style have ensured the success of her and her team. Christine holds a Bachelor of Science in Healthcare Administration and a Master of Business Administration.
Citation
Lee, Connie, Lieberenz, Scott, Mouton, Brandon and Snell, Christine (2022, March 1). More than a call centre: Creating a family-centric experience to increase access and revenue. In the Management in Healthcare: A Peer-Reviewed Journal, Volume 6, Issue 3.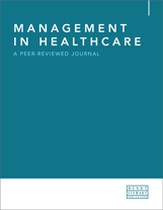 © Henry Stewart
Publications LLP