Case study
Hitting the procurement trifecta : How FHLB San Francisco transformed and aligned procurement, risk and diversity in the middle of a pandemic
Journal of Supply Chain Management, Logistics and Procurement, 4 (2), 156-170 (2021)
Abstract
Procurement transformations involve a strategic review and realignment of an organisation's procurement function to address critical operational gaps. This paper focuses on the execution of such transformation activities within a heavily regulated financial services organisation that faced several internal and external gaps. Gaps included a heavy reliance on suppliers to maintain critical operations, increased regulatory oversight and a lack of standardisation and organisational integration within the procurement function needed to service internal customers. A successful transformation for such an organisation required a focus on three primary pillars (workstreams): procurement, supplier diversity and supplier risk. Each workstream addressed a unique set of challenges and, as such, were carried out independently; however, the interrelated nature of these challenges called for strong planning, shared resources and parallel efforts. The results of the initial gap assessments showed a need for procurement team right-sizing (in terms of resources and role definitions), a revision of core policy and standard operating procedures, and a re-evaluation of the technologies that supported both procurement operations and regulatory reporting/compliance. The transformation, embodied by the three pillars above, addressed each of these gaps. This transformation began the reimagining of the procurement function but work in this space is ongoing. Requirements around third-party risk management, supplier diversity and the regulatory landscape will continue to shift and evolve. Regular monitoring of the effectiveness of this transformation must be conducted, and strategic pivots and change management efforts must be undertaken to ensure long-term success.
Keywords: procurement transformation; supplier diversity; supplier risk management; stakeholder engagement; regulatory compliance
Author's Biography
Kelly Gear is the Senior Vice President, Chief Procurement Officer and Operational Excellence at Federal Home Loan Bank of San Francisco, a cooperatively owned wholesale bank. Kelly is responsible for multiple business domains at the bank and in 2019, she initiated a holistic transformation across procurement, supplier diversity and supplier risk management and successfully delivered higher value across the organisation. Kelly has 25 years' experience spanning multiple industries and positions.
Tom Rogers is the Founder and CEO of Vendor Centric, a national consulting firm that helps organisations take a risk-based approach to creating more value and less risk with vendors and other third parties. Tom is certified as both a public accountant and contract management professional and writes and speaks frequently on the topic of third-party management.
Jennifer Ulrich is the Senior Director, Advisory at Corcentric, a global provider of market-leading sourceto- pay, order-to-cash and fleet solutions. Jennifer is recognised industry-wide as an authority on procurement, finance and digital transformation, with over a decade of consulting experience successfully leading large-scale organisational improvement initiatives across various industries.
Citation
Gear, Kelly, Rogers, Tom and Ulrich, Jennifer (2021, December 1). Hitting the procurement trifecta : How FHLB San Francisco transformed and aligned procurement, risk and diversity in the middle of a pandemic. In the Journal of Supply Chain Management, Logistics and Procurement, Volume 4, Issue 2.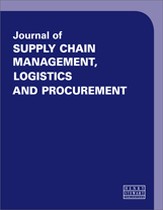 © Henry Stewart
Publications LLP