Practice paper
Maturing operational security with an automation-first approach to IAM
Cyber Security: A Peer-Reviewed Journal, 5 (2), 126-134 (2021)
Abstract
Over the last few decades, organisations have adhered to a number of security practices that are showing their age. With the explosion of remote work and software as a service (SaaS) adoption, this has become more pronounced. In pursuit of greater operational maturity, initiatives such as Zero Trust have placed these practices under scrutiny and the evidence suggests they are wanting. The rise of new technologies like adaptive authentication, enterprise federation and next-gen IAM offers new options and techniques — options that were once considered hypothetical. Among those worthy of consideration are an automation-first approach to identity and access management (IAM). In organisations where Zero Trust initiatives are being scoped, intelligent IAM can play a foundational role. Notwithstanding, IAM deployments should be regarded as multi-phase projects accompanied by unique obstacles that stakeholders would do well to avoid.
Keywords: deperimeterisation; Zero Trust; identity and access management; operational maturity; identity and access management (IAM); identity governance; authentication; access requests; systems of record (SoR); joiner-mover-leaver (JML)
Author's Biography
Bryan Christ is an IT professional with almost three decades of industry experience. His fascination with technology started in the early 1980s with various models of the Commodore personal computer. He first published in 1991 and began his professional career a few years later. Along the way, he has worked for a number of high-profile companies including Compaq, Hewlett-Packard and MediaFire. Most of his career has been focused on open-source and software development opportunities with an emphasis on project management, team leadership and executive oversight. After serving two years in a full-time fractional CIO role in the Greater Houston area, Bryan carried his skills to Hitachi ID where he focuses on identity and access management. In addition to his work with Hitachi ID, he continues to serve as a fractional CIO as needed and frequently contributes to a number of SaaS-related endeavours.
Citation
Christ, Bryan (2021, December 1). Maturing operational security with an automation-first approach to IAM. In the Cyber Security: A Peer-Reviewed Journal, Volume 5, Issue 2.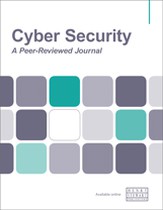 © Henry Stewart
Publications LLP