Practice paper
Two birds with one programme: How business schools can support their entrepreneurial stakeholders and generate new revenue
Journal of Education Advancement & Marketing, 6 (3), 279-300 (2021)
Abstract
This paper examines how US colleges and universities currently support their entrepreneurial stakeholders and proposes an advisory initiative that extends these services in a way that benefits all involved. First, some of the most common support mechanisms provided by these schools to their entrepreneurial stakeholders are detailed. This discussion helps identify an important process that can be added to an already full menu of support that schools provide. Secondly, that process is presented to help schools determine how best to extend the variety of school resources to their school stakeholders engaged in various stages of running business ventures. The ultimate goal is to offer intermediate, advisory opportunities that fall between using independent mentors and coaches and a more formal board of directors. The firms get access to expert advice and counsel. Advisory board candidates have a new way to connect with the school and make meaningful contributions to both the venture and the school. The institution possibly receives a small equity stake in the firm that could bring some needed relief to school's financial needs. Finally, this process fills an important gap in the services schools can provide their entrepreneurial stakeholders.
Keywords: advisery; alumni relations; corporate relations; entrepreneurship; university advancement
Author's Biography
John A. Sims, Jr is currently President and Chief Executive Officer (CEO) of AJS Consulting Company LLC. He has also worked as an Assistant Professor at Northeastern University's Graduate School of Business as well as serving in a variety of leadership roles in higher education for over 20 years. These roles included Assistant Dean of the McCallum Graduate School of Business, Leadership Gift Officer and Executive Director of External Relations for Academic Affairs, all at Bentley University. He earned his MBA from Harvard Business School and has 20 years of experience in the high technology marketing and sales sector in addition to his work in higher education.
Roy A. Wiggins, III is a Trustee Professor of Finance, the Director of the Bentley Microcredit Initiative and a past Dean of Business and the McCallum Graduate School of Business at Bentley University. He teaches graduate and undergraduate courses in microfinance, corporate and financial strategy, advanced corporate finance topics and equity markets. His research interests include higher education strategy and governance; corporate governance; and corporate expansions such as mergers and acquisitions, joint ventures and reverse takeovers. Wiggins holds a Doctor of Philosophy and a Master of Science in Finance from Georgia State University. He has a Bachelor of Arts in English, with a concentration in creative writing from Florida State University.
Citation
Sims, Jr, John A. and Wiggins, III, Roy A. (2021, December 1). Two birds with one programme: How business schools can support their entrepreneurial stakeholders and generate new revenue. In the Journal of Education Advancement & Marketing, Volume 6, Issue 3.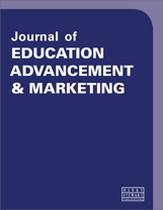 © Henry Stewart
Publications LLP