Practice paper
Real-estate-as-a-service : The servitisation-led transformation of corporate real estate
Corporate Real Estate Journal, 11 (1), 56-67 (2021)
Abstract
The onset of the Fourth Industrial Revolution has immutably changed not only how products and services are produced, but also the way they are delivered and consumed. Enabled by advances in technology such as sensor networks powered by the Internet of Things (IoT), cloud computing and big data analytics, the servitisation-led transformation of business models emphasises a provision of 'access' rather than 'ownership'. In other words, end users pay for 'service-based outcomes' instead of the ownership of products. Business models employing servitisation strategies are broadly categorised as 'everything-as-a-service' (XaaS) and are likewise increasingly found in corporate real estate (CRE). Real-estate-as-a-service (REaaS) points to an amalgamation of various XaaS models that are now proliferating in the CRE space. Such services are popular, given flexible consumption pricing structures whereby access to space, amenities and services is scalable and provided on-demand, freeing the end user from the financial burdens of asset ownership and the risk of obsolescence due to advances in technology. In the process, REaaS also creates new possibilities for CRE's future where the importance of physical real estate assets in creating business outcomes, operational efficiencies and employee engagement may potentially diminish. This paper explores the servitisation-led transformation of CRE by discussing its origins, underlying drivers and challenges, in linkage with overarching industry themes, with the aim of adding cross-disciplinary insight to the literature.
Keywords: real-estate-as-a-service (REaaS); everything-as-a-service (XaaS); servitisation; leasing; Internet of Things (IoT); digitalisation; corporate real estate (CRE); asset-light
Author's Biography
Calvin Chua PhD is a co-founder and head of research and consultancy at Zenith Real Estate Services. Zenith is a 30-strong boutique real estate consultancy firm specialising in assets and portfolio management, including tenancy management. During his tenure in real estate, Calvin helped acquire, develop and sold more than US$500m in real estate in Singapore. Calvin started his career in 1998. He held senior executive appointments in operations, branding and investments in different asset classes in publicly traded companies such as SBS Ltd, APB Singapore, Standard Chartered Bank, Overseas-Chinese Banking Corporation and JLL Singapore. Calvin shares his expertise by providing real estate portfolio advisory to numerous ultra-high-net-worth individual and corporate companies in Malaysia, Indonesia and China. Calvin is active in the community. Recently, he is the founding committee member of the MCST Association of Singapore; this association aims to unify the servitisation of facilities and estate management in Singapore by amalgamating the more than 6,000 management corporations of estates in Singapore. Calvin continues to be engaged in collaborative research in behavioural economics, real estate investments and wealth management.
Davin Wang is a Venture Partner at CapBridge Financial, a leading private equity platform and operator of 1X.Exchange (1X), the world's first regulated and licensed secondary trading platform for private securities. Prior to this role, Davin held senior positions in both private and public firms such as Singapore Press Holdings (SPH), Singapore Airlines (SIA) and the Economic Development Board (EDB) of Singapore, covering roles related to technology, real estate and investment. He is also an Adjunct Faculty at the Lee Kong Chian School of Business in Singapore Management University (SMU) and remains research active in topics on corporate finance, wealth management, technology and behavioural economics. Having started his career in Silicon Valley software start-up, Davin leverages his experience through directorships and advisory roles for several start-ups in the Singapore scene. He is also actively involved in community service with non-profit organisations and was previously the Vice Chairman of CoreNet Global (Singapore Chapter), a global non-profit trade association focused on the corporate real estate (CRE) industry with 11,000 members in over 50 countries.
Citation
Chua, Calvin and Wang, Davin (2021, September 1). Real-estate-as-a-service : The servitisation-led transformation of corporate real estate. In the Corporate Real Estate Journal, Volume 11, Issue 1.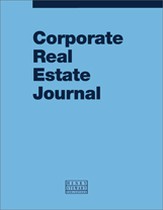 © Henry Stewart
Publications LLP