Research paper
The importance of timely social media responsiveness
Journal of Digital & Social Media Marketing, 8 (4), 358-364 (2021)
Abstract
Social media marketing has become a very popular way for brands to attract and interact with consumers. To realise the benefits of social media marketing, companies should understand and apply best practices. Using an experimental (A/B) design, this research compares what happens when brands respond to consumer posts and enquiries within one day and when they do not. This is a very practical scenario. When being asked to do more with less, marketing managers and small business owners oftentimes do not have the bandwidth to stay on top of social media every single day. This study examines the consequences for brands that are unable to respond promptly to enquiries made via social media. This research measures and highlights the fact that Facebook page visitors pay attention to a brand's responsiveness, and that delay has negative consequences. In particular, the results from this experiment show that responding to posts and enquiries within one day results in significantly higher outcomes for consumer engagement behaviour intentions compared with not responding to posts and enquiries within one day.
Keywords: social media; responsiveness; Facebook; consumer engagement; marketing communications
Author's Biography
Jennifer L. Dapko Jennifer Dapko is an Assistant Professor of Marketing in the Barney Barnett School of Business and Free Enterprise at Florida Southern College. In her 20-year career, Jennifer has been directly responsible for digital advertising, social media marketing, events, public relations, marketing communications, training and development, e-mail marketing, website development, nonprofit marketing and fundraising, data analytics and market research.
Stefanie Boyer is a Professor of Marketing at Bryant University and the Co-Founder of RNMKRS, a virtual platform for training and assessing sales talent. She is Executive Director of the Northeast Intercollegiate Sales Competition, linking organisations with top talent, and is the recipient of the prestigious American Marketing Association Sales Educator of the Year Award. Stefanie co-authored 'The Little Black Book of Social Media: Strategies to Ignite Your Business, Influencer, and Professional Brand'.
Eric Harris is an Associate Professor of Marketing in the Barney Barnett School of Business and Free Enterprise at Florida Southern College. His research focuses primarily on salesforce goal orientations and personality issues pertaining to consumer and employee behaviour, and has been published in a number of journals. He has also co-authored a textbook entitled 'CB — Consumer Behavior', and he is currently the associate editor of Journal of Managerial Issues. His professional and consulting experience includes work in advertising, retail and sales management, healthcare marketing and customer satisfaction assessment.
Citation
Dapko, Jennifer L., Boyer, Stefanie and Harris, Eric (2021, April 1). The importance of timely social media responsiveness. In the Journal of Digital & Social Media Marketing, Volume 8, Issue 4.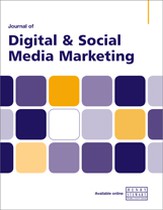 © Henry Stewart
Publications LLP