Case study
A customer- and business-driven healthcare access model
Management in Healthcare, 5 (2), 115-126 (2021)
Abstract
Whether centralised or decentralised, healthcare access models provide varying degrees of benefit to customers and to the organisations they serve. Mayo Clinic Health System in Southwest Minnesota, United States, is a community-based practice of 23 clinics and 6 hospitals that has undergone an evolution of its access model. In 2010, a centralised access model was adopted, including the physical location of schedulers, which was expected to offer greater efficiency, flexibility and staff savings. However, in 2016, the region noted concerning trends of low patient and provider satisfaction with scheduling, decreasing patient access and less-than-optimal patient throughput, all subsequently contributing to declining financial performance. Early concerning trends led to further investigation of practice areas and geographical sites that had notable appointment capacity yet low patient access and throughput. Provider productivity rates, calendar management and patient access varied substantially. Performance in scheduling operations was below par because of limited connection with the practice. The combination of practice variation and a centralised access model was causing an increase in scheduling errors, consistent rework/rescheduling, less-than-optimal patient access, low provider calendar fill rates and high levels of dissatisfaction for patients and providers. Our group was tasked with analysing the problems and developing a new scheduling model. This paper describes the resulting model: a hybrid of centralised and decentralised models, which promised the benefits of both and involved transformation in clinical practice operations and access management. Standardisation for provider scheduling and template management was enhanced. Pods of scheduling personnel were embedded in practice areas. The proximity of the pods to physician, nursing and other clinical staff allowed for increased collaboration and communication. The hybrid model improved access metrics for average speed to answer, abandoned call rates, patient access and throughput, financial performance, and patient and provider satisfaction.
Keywords: centralised; decentralised; healthcare access; hybrid; provider calendar management; scheduling
The full article is available to institutions that have subscribed to the journal
Already a subscriber?
Review these options
Author's Biography
Mark T. Fleischer Mark Fleischer is a Principal Health Systems Engineer in the Department of Management Engineering & Consulting (ME&C) at Mayo Clinic. He has been at Mayo Clinic since 2011 in several process improvement roles and joined ME&C in 2016. Prior to joining ME&C, Mark served as the Southwest Minnesota Mayo Clinic Health System Director of Process Improvement for three years. While at Mayo Clinic and in ME&C, he has led multiple administrative projects in scheduling operations. Prior to Mayo Clinic, he worked at a major printing organisation, in storage area network operations, and multiple information technology solutions companies. Mark has a Master of Business Administration degree from Liberty University, Lynchburg, Virginia, and a Bachelor of Arts in Business Administration from University of Jamestown, Jamestown, North Dakota. He is a Mayo Quality Gold Fellow, which recognises competence in Lean and Six Sigma methodology. Mark is a Six Sigma Black Belt and a certified manager of Quality/Organisational Excellence (ASQ).
Chris Schneider is Unit Head, Mayo Clinic, Management Engineering & Internal Consulting, USA, leading the Mayo Health Clinic System, Minnesota Unit and has a 29-year history with Mayo Clinic, including more than 15 years of progressive leadership experience. In his current role, Chris manages client and leadership relationships within the two Minnesota regions of the Mayo Clinic Health System. Committee appointments include the SEMN CPC, SWMN CPC and SWMN Space and Equipment Subcommittee. Previously Chris worked in ME&C as Senior Health Systems Engineer in the Research and Education and Mayo Clinic Health System units. Prior to ME&IC, he was a Unit Head in Mayo Clinic Supply Chain Management (SCM), managing logistics operations for the Rochester campus. Numerous other Mayo Clinic roles include supervisor, Linen and Central Services, support service coordinator, Department of Nursing, and several roles within the Mayo Clinic Department of Finance. Chris has a Master of Arts degree in Health and Human Service Administration, from St. Mary's University, Winona, Minnesota, and a Bachelor of Arts degree in Mass Communications from Minnesota State University, Winona, Minnesota. Chris is a Mayo Gold Quality Fellow, Certified Change Management Practitioner (Prosci) and an internal ME&IC course developer/instructor in the area of organisation transformation.
Terry Brandt Terry L. Brandt has, since October 2016, been Regional Chair of Administration for the Southwest Minnesota Region of the Mayo Clinic Health System. He has been at Mayo Clinic for 40 years, with prior assignments in Rochester, Minnesota, which include serving as Associate Administrator for Medical Specialties, Clinic Operations, as Secretary to the Mayo Outpatient Care Delivery Platform, Operations Administrator for Anesthesiology, Orthopedic Surgery, Sports Medicine, Gastroenterology and Hepatology, and Internal Medicine Outreach. He served as Secretary to the Operations Coordinating Group from 2009 to 2014, working with physician and administrative leaders to oversee allocations of clinical physician and allied health FTE resources and approvals, as well as alignment of clinical department operations with Mayo's strategic plan. Earlier in his career, Terry held leadership positions within finance at Mayo Clinic. He is a Fellow in the American College of Medical Practice Executives, is Silver Certified in the Mayo Quality Fellows Program, is an Instructor in Health Care Administration in the Mayo Clinic College of Medicine and has twice been the recipient of the Mayo Excellence through Teamwork Award.
Jill M. Robinson has 22 years of service with Mayo Clinic Health System and has held many positions, including Waseca Registration Manager, Regional Access Manager, Senior Access Operations Analyst, and, since 2016, Operations Manager for Scheduling Operations in SWMN. She is currently Operations Manager for Scheduling Operations, Mayo Clinic. Jill has a Bachelor of Arts degree in Management from American Public University in West Virginia. She has served as subject matter expert for multiple EHR conversions, working with regional sites to develop processes to increase efficiencies; worked on the Mayo Model of Community Care, population health and PCP attribution projects; set up the regional call centre and later the embedded scheduling model; and been an active participant on quality measure teams and demand and capacity work groups and overseen AIDET, kiosk, tablet and enterprise self-scheduling initiatives.
Janine (Coelho) Kamath is the Chair, Department of ME&C, at Mayo Clinic. The strategic consulting and management engineering resources in ME&C are responsible for systems analysis, design and execution, re-engineering of core processes, assisting with business strategy and integration, programme and project management and enabling business transformation. ME&C provides business consulting and management engineering services to the Clinical Practice, Research, Education, Administration and Business Development at Mayo Clinic. Prior to joining Mayo Clinic, Janine worked as a manager at two large pharmaceutical companies. While at Mayo, she has advanced and led multiple institutional initiatives related to Mayo's Electronic Environment, Facilities Reintegration, Operations Analysis and Research, Systems Engineering, Care Model Redesign, Business Development and Mayo's Quality, Safety and Service programme. Janine is the Board Chair and President Emeritus of the Association for Internal Management Consultants (AIMC) and a member of the INFORMS Roundtable. Janine has presented at national and international conferences and educational programmes. She has published in peer-reviewed journals, authored book chapters and a book on the legacy of management engineering and consulting at Mayo Clinic. Janine actively participates in a number of external professional organisations and academic institutions and has received multiple awards and professional commendations.
Citation
Fleischer, Mark T., Schneider, Chris, Brandt, Terry, Robinson, Jill M. and Kamath, Janine (Coelho) (2021, December 1). A customer- and business-driven healthcare access model. In the Management in Healthcare, Volume 5, Issue 2.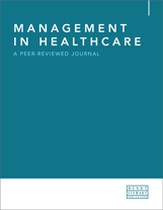 © Henry Stewart
Publications LLP