Practice paper
Cross-border crosswalk: An overview of Canadian and US banking and consumer financial services regulators
Journal of Financial Compliance, 4 (2), 110-125 (2020)
Abstract
Canada and the United States are neighbours, each with its own 'alphabet soup' of banking and consumer financial services regulators. Many institutions in each country are under the purview of both federal and state/provincial regulators, and some institutions may be supervised by multiple financial regulators. For businesses engaged in financial services on either side of the border, it is important to understand which agencies regulate the products and services they offer and how agencies policies change over time. Understanding how local regulatory environments differ should inform business decisions. For example:
There may be costs associated with expanding to a new jurisdiction as there are likely different compliance requirements.
A product that is viable in one area may be untenable in another due to differing regulations (eg varying usury limits).
Litigation risk may differ between jurisdictions: various US regulators can file lawsuits in federal court whereas Canadian regulators often have supervisory and regulatory powers that do not include prosecution. US companies are also often able to insulate themselves from class action liability through the operation of arbitration clauses and class action waivers.
Companies seeking to do business in both the United States and Canada should consider engaging legal and expert teams during product development to harmonise where possible. Additionally, when facing regulatory scrutiny or litigation, similar harmonisation may be beneficial as well.
Navigating the oversight of each agency is nuanced within each country, and one's knowledge, experience and jargon are often specific to their area of expertise. Regulated entities' incentives may differ due to differences in regulation or licensing requirements. Engaging with and retaining expertise (eg staff, counsel or external experts) in one country who have the tools and language to work with people in another can be valuable. To help with that, this paper provides an overview of the legal framework, financial services landscape and key regulators in Canada and the United States.
Keywords: Canada; United States; regulation; banking; consumer finance; consumer protection; FinTech; compliance
The full article is available to institutions that have subscribed to the journal
Already a subscriber?
Review these options
Author's Biography
Suhuyini Abudulai is a partner at Cassels Brock & Blackwell LLP. Suhuyini's practice focuses on transactional and regulatory matters in financial services, with particular expertise in Canadian consumer protection laws. She regularly advises clients on the regulation of financial services and consumer finance in Canada including documentation, licensing and disclosure requirements. On the transactional side, Suhuyini advises clients on commercial lending matters, acting for lenders and borrowers in domestic and multijurisdictional transactions. Suhuyini has authored several publications, including the Annotated Ontario Consumer Protection Act. Among other professional experience, Suhuyini holds leadership positions with the American Bar Association and the Ontario Bar Association (OBA) including Chair of the Consumer Law Committee of the OBA's Business Law Section. She is ranked in the ILFR1000 (financial services regulatory and banking).
Xiaoling Ang is an Associate Director specialising in consumer financial services, consumer protection, antitrust and labour economics. She chiefly directs matters in the consumer financial services, banking, insurance and finance industries. Xiaoling focuses on applying rigorous economic and econometric methods to these areas, including in regulatory and state attorney general actions, class certification and damages analysis, policy evaluation, cost-benefit analysis and fair lending analysis. Xiaoling has testified and submitted affidavit and expert report testimony in US federal proceedings and has advised clients on consumer financial services compliance issues, including annual percentage rate (APR) and amortisation schedule calculations. Her antitrust-related work includes matters related to fixed-income securities and insurance as well as consumer packaged goods and electronic components. Prior to working in economic consulting, Xiaoling was one of the original economists at the Consumer Financial Protection Bureau (CFPB). At the CFPB, Xiaoling frequently served as the Lead Economist on Bureau initiatives and rulemakings. Before joining the CFPB, she was a Financial Economist at the Federal Deposit Insurance Corporation. Xiaoling's work has been published in law and economic journals, and she has presented her research at academic and industry conferences. Her academic research includes work on student and mortgage lending, as it relates to behavioural economics, pass through and bankruptcy. She has been awarded various national fellowships, including the National Science Foundation Graduate Research Fellowship and the Statistics Canada Tom Symons Research Fellowship.
Eric Goldberg helps clients tackle regulatory compliance issues that arise in consumer finance with a particular focus on payments and FinTech issues. Previously, Eric was Managing Counsel for Regulations at the Consumer Financial Protection Bureau (CFPB) where he led the Agency's payments regulatory work. At Akerman, Eric evaluates federal and state regulatory issues that arise for providers of prepaid accounts, money transmission services, credit cards and other lending products, earned wage access services and on FinTech products, such as those involving virtual currency, blockchain and consumer data aggregation. Eric evaluates unfair, deceptive and abusive acts and practices (UDAAP) risk and counsels clients on issues arising under the federal consumer finance laws, the Dodd–Frank and Federal Trade Commission (FTC) Acts, Bank Secrecy Act / Anti-money Laundering (BSA/AML) and state licensing consumer protection laws. While at the CFPB, Eric led rulemakings on prepaid accounts and remittance transfers and was involved in the Agency's innovation activities. Eric is a frequent writer and speaker on consumer finance issues including on regulators' innovation and sandbox initiatives.
Thomas Kearney helps lenders, technology companies and other financial services providers navigate issues arising under financial services laws. Thomas works with clients to operationalise state and federal laws and regulations, ranging from implementing the recent Home Mortgage Disclosure Act (HMDA) amendments to assessing programme compliance with information privacy, data breach and cybersecurity requirements. He counsels FinTechs, RegTechs and vendors on developing and maintaining compliant technology and data systems. Thomas joined Akerman from the Consumer Financial Protection Bureau's (CFPB) Office of Regulations, where he played a key role developing and drafting multiple mortgage originations related rulemakings. He led the team responsible for the Home Mortgage Disclosure Act rulemakings. He was also substantially involved in the CFPB's TILA-RESPA Integrated Disclosure (Know Before You Owe) rulemaking and the Ability-to-Repay and Qualified Mortgage rulemakings.
Citation
Abudulai, Suhuyini, Ang, Xiaoling, Goldberg, Eric and Kearney, Thomas (2020, December 1). Cross-border crosswalk: An overview of Canadian and US banking and consumer financial services regulators. In the Journal of Financial Compliance, Volume 4, Issue 2.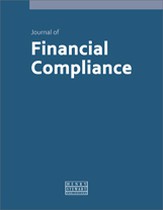 © Henry Stewart
Publications LLP