Case study
Strategies to use government-funded programme models to achieve the triple aim: A look at New York State's DSRIP programme
Management in Healthcare, 4 (3), 208-213 (2020)
Abstract
New York State has become a leader in Medicaid reform and the Delivery System Reform Incentive Payments (DSRIP) programme has provided new opportunities for both providers and new healthcare market players to play a stronger role in transitioning to value-based payments (VBP). The lessons learned in New York will be adapted to help with widespread success across the country, particularly in shifting Medicaid to risk-based reimbursement. The DSRIP programme in New York promoted the development of new healthcare organisations to lead and manage the government funding in an effort to achieve cost and quality improvements across the state. These new healthcare organisations are creating long-term sustainable models to advance the programme goals. Sustainability of Medicaid and Medicare continues to be at the forefront of federal and state government health reform. With health reform now poised to be a major 2020 presidential election issue, VBP remains a leading strategy for reducing the total cost of care and meeting the Quadruple Aim of enhancing patient experience, improving population health, reducing costs and improving the work life of healthcare providers.
Keywords: DSRIP; value-based payment; 1115 Medicaid waiver; triple/quadruple aim; managed services organisation (MSO)
The full article is available to institutions that have subscribed to the journal
Already a subscriber?
Review these options
Author's Biography
Carla D'Angelo joined COPE Health Solutions as Vice President in 2016. She has more than ten years of leadership experience in the healthcare industry with a primary focus on health plan and provider collaboration. Prior to joining COPE Health Solutions, Ms D'Angelo served as the Senior Vice President at YourCare Health Plan, a low-income health insurer in Western New York. In this role, Ms D'Angelo led the New York State Medicaid Delivery System Reform Incentive Payment (DSRIP), value-based contracting, marketing and quality efforts. Ms D'Angelo also served as the Senior Vice President of administration at Trillium Health, a Federally Qualified Health Center (FQHC) Look-a-Like in Rochester, NY, where she led the health centre through their FQHC application process. Additionally, Ms D'Angelo ran the 340 B pharmacy, marketing and organisational advancement departments, human resources and organisational strategy and board relations. Ms D'Angelo's expertise is in value-based contracting, accountable care organisation development, provider contracting and health care reimbursement. In her senior leadership roles, Ms D'Angelo has gained expertise in board relations, strategic planning, executive coaching and leadership development. Her passion is around eliminating health disparities for low-income and vulnerable populations.
Anush Gevorgyan joined COPE Health Solutions in 8 November 2011. In September 2014, Ms Gevorgyan took on a senior consultant role and joined the team in Western New York to implement the Section 1115 Medicaid redesign waiver through a series of transformational projects. Her role includes coordination of work towards strategic development of organisational design for a newly incorporated non-profit organisation responsible for all activities in a 13-county region and nearly 400,000 Medicaid lives. Her role is focused on project management leadership and support for financial sustainability strategy, downstream contracting and funding methodology design for nearly 380 providers in the Western New York region. Prior to her consulting role, Anush was Regional Director over operations for pre-health pipeline programmes of Health Scholar at major hospitals in Southern California Region. Her role focused on developing and leading the strategy for developing long- and short-term staffing needs for client populations as well as defining opportunities for value-add services towards improving patient experience. In addition, she supported managers at each facility for efficient administrative operations for the programmes, leadership development and execution of valuable services for the hospital and the community.
Adam Goldstein joined Montefiore Health System in July 2015. He has more than ten years of experience in health care policy with a focus on coverage and low income health programmes. Prior to joining Montefiore, Goldstein held positions within US Department of Health and Human Services first serving as Speechwriter to the Secretary of Health and then Special Assistant to the Director of the Center for Medicaid and CHIP Services. Goldstein also served as lead health policy adviser to Congresswoman Betty Sutton during debate and passage of the Affordable Care Act and, before that, the health practice of the Glover Park Group. Goldstein holds a Master's in Public Management from Johns Hopkins University.
Citation
D'Angelo, Carla, Gevorgyan, Anush and Goldstein, Adam (2020, March 1). Strategies to use government-funded programme models to achieve the triple aim: A look at New York State's DSRIP programme. In the Management in Healthcare, Volume 4, Issue 3.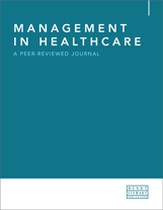 © Henry Stewart
Publications LLP