Practice paper
Preventing cybercrime: A framework for understanding the role of human vulnerabilities
Cyber Security: A Peer-Reviewed Journal, 3 (2), 159-174 (2019)
Abstract
Cybercrime is the fastest growing form of crime in the world today. Currently, advancements in artificial intelligence (AI) and machine learning (ML) cannot accurately predict how humans will respond to cyberattacks, particularly those that incorporate social engineering (SEing) into their design. Cybercriminals have learned to utilise SEing as an effective means to dupe users of technology (UoT) to into being victimised by capitalising on known vulnerabilities related to human nature and human curiosity, which the authors collectively refer to as the human dimension. This paper introduces a new theory, Required Elements for a Social Engineered Cyber Attack Theory (RESCAT), which provides a more complete understanding of how social engineers (SEs) design cyberattacks, based upon these elements, to increase the probability of a successful cyberattack. RESCAT applies and expands upon routine activities theory (RAT) in an effort to better understand cyber deviance in cyberspace. The paper argues that an expanded approach drawing on criminological theory can reduce the incidence rates of such crimes and propose that incorporating the concepts of RESCAT as a complement to current technology solutions will decrease the risks of being victimised by a cyberattack.
Keywords: cybercrime; human curiosity; human dimension; human nature; Required Elements for a Social Engineered Cyber Attack Theory (RESCAT); social engineering
Author's Biography
Christopher S. Kayser holds a Master's in criminal justice with a subconcentration in cybercrime investigation and cyber security, a Certificate in cybercrime investigation and cyber security from Boston University, and is an Access Data Certified Digital Forensics Investigator. Chris is a member of Alpha Phi Sigma — the Honors Society of Criminal Justice and an editorial board member of the Journal for Cybercrime Investigation and Cybersecurity. His research interests lie in the area of cybercrime investigation and cyber security, specifically with regard to educating individuals and organisations to reduce their risks of becoming a cyber victim as a result of social engineering. Chris is an advocate of the importance of companies having effective policies and procedures related to cybercrime protection and is actively working with private and government organisations on developing legislation to more effectively address cybercrime on a global basis.
Mary Ellen Mastrorilli is Associate Professor of the Practice and Chair ad interim of the Department of Applied Social Sciences at Boston University's Metropolitan College. Mary Ellen earned her PhD in law, policy and society at Northeastern University. Her research interests include the study of prisons and offenders and criminal justice administration.
Robert Cadigan is Associate Professor Emeritus, Applied Social Sciences at Boston University. Robert earned his PhD at Boston University in sociology. Robert teaches courses in criminology; rehabilitation and reintegration; freedom; business and the social environment; and a seminar on freedom, technology, environment and society. He is a published expert in technological and social issues regarding emergency medical care, as well as prison education programmes. Robert has also conducted research and served as a consultant for several public health and intervention organisations. He is the former director of MET's Prison Education.
Citation
Kayser, Christopher S., Ellen Mastrorilli, Mary and Cadigan, Robert (2019, December 1). Preventing cybercrime: A framework for understanding the role of human vulnerabilities. In the Cyber Security: A Peer-Reviewed Journal, Volume 3, Issue 2.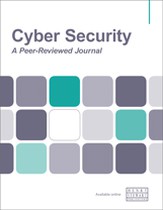 © Henry Stewart
Publications LLP