Practice paper
Consent for data processing under the General Data Protection Regulation: Could 'dynamic consent' be a useful tool for researchers?
Journal of Data Protection & Privacy, 3 (1), 93-112 (2019)
Abstract
The General Data Protection Regulation (GDPR) sets the bar high for consent for the processing of personal data. In the UK, researchers have been directed to rely on legal bases other than consent for processing personal data for research purposes. Informed consent, nonetheless, and despite certain shortcomings, holds a central position in ethical research practice, as well as at common law, and in a range of other legislation dealing with research involving humans. This paper evaluates the place of informed consent in research following the GDPR's implementation, arguing that a fresh approach to consent — specifically the concept known as 'dynamic consent' — could provide a way for researchers to meet the new European regulatory requirements for data processing while adhering to the highest ethical standards for research conduct. It analyses dynamic consent according to specific GDPR requirements and reflects on practical examples that could inform future implementation of the approach, while remaining aware of the need for further empirical research.
Keywords: dynamic consent; data processing; General Data Protection Regulation; personal data; research communication; participant engagement
The full article is available to institutions that have subscribed to the journal
Already a subscriber?
Review these options
Author's Biography
Megan Prictor is an academic lawyer and research fellow at Melbourne Law School with the Health, Law and Emerging Technologies (HeLEX) programme. She has extensive research experience in informed consent mechanisms, patient communication and engagement, and electronic health records, and also leads empirical research on dynamic consent with the Australian Genomics Health Alliance. She is a steering group member for the Data, Systems and Society Research Network at The University of Melbourne, and has a growing research and media profile particularly in relation to medical record data. She has published numerous journal papers and book chapters in health and law, including on informed consent, biobanking and health communication.
Harriet J. A. Teare is a researcher in healthcare and policy, and deputy director of the Centre for Health, Law and Emerging Technologies (HeLEX), University of Oxford. She advises on the ethics committee for ePatient Network Limited (t/a Raremark), and is a member of the National Research and Ethics Advisors' Panel (NREAP) (an independent, multidisciplinary expert panel which provides advice to the Health Research Authority). She has published a number of peer reviewed papers relating to digital health and consent, and the role of patients in biomedical research.
Jessica Bell is a research fellow at the Melbourne Law School and HeLEX. Jessica holds a PhD from the University of Sheffield and an MA in biotechnology, law and ethics from the same institution. Jessica has been a visiting researcher at the Brocher Foundation, Geneva; the Centre for Science, Technology, Medicine and Society, UC Berkeley; and the Centre of Genomics and Policy, McGill University, Montreal. Her research focuses on the legal and governance issues that arise from the establishment of large-scale research infrastructures such as biobanks and data-sharing networks, particularly data protection and privacy.
Mark Taylor is an associate professor in health law and regulation at Melbourne Law School and deputy director, HeLEX@Melbourne. Mark was a Mid-career Fellow of the British Academy and is author of Genetic Data and the Law (Cambridge University Press, 2012) and he has published widely on the regulation of personal information with particular emphasis upon health data governance. He was immediate past chair of the Confidentiality Advisory Group (England and Wales), and served as policy advisor to the Health Research Authority (HRA) (England) and as a member of the drafting group for the OECD Recommendation on Health Data Governance. He was a member of the Ethics Advisory Group for Genomics England and the Ethics, Regulation and Public Involvement Committee (ERPIC) of the Medical Research Council (UK). He is currently an advisor to the Data Protection and International Health Data Sharing Forum (GA4GH) and the National Data Guardian in England.
Jane Kaye All contributing authors are researchers at the HeLEX Centre for Health, Law and Emerging Technologies (HeLEX), Nuffield Department of Population Health, University of Oxford. HeLEX was founded in 2009 by Professor Jane Kaye (director) and specialises in law, governance and best practice for emerging technologies in health. Professor Jane Kaye is Professor of Health Law at Melbourne Law School, University of Melbourne, and the University of Oxford.
Citation
Prictor, Megan, Teare, Harriet J. A., Bell, Jessica, Taylor, Mark and Kaye, Jane (2019, July 1). Consent for data processing under the General Data Protection Regulation: Could 'dynamic consent' be a useful tool for researchers?. In the Journal of Data Protection & Privacy, Volume 3, Issue 1.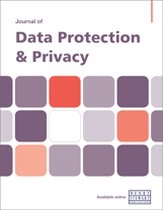 © Henry Stewart
Publications LLP