Are you ready for the applied GDPR?
Journal of Data Protection & Privacy, 2 (1), 72-82 (2018)
Abstract
There have been several large developments within the practice of data protection over the last year, all of which culminate in 2018, the 'data big bang' year. This paper aims to assist data practitioners in navigating the fast-moving field of data privacy protection and will also look at the only legally binding instruments in the world in the field of the protection of personal data which, because of their open nature, had a universal scope. It will also look at the implementation of the Applied General Data Protection (and other) Regulations, which will shape the direction and future of data privacy protection not just in the UK, but globally. All data practitioners must be aware that new technologies bring with them their own unique challenges for data privacy, processing as well as compliance. Add this to the impending legislation changes with additional data subject rights, then 2018 will be exceptionally busy for the data privacy practitioner. As Moreland described, making conclusions from the Data Protection Act 1998 (DPA) was like 'weaving his way through a thicket' (Campbell v MGN ltd (HL) [2004] UKHL 22; [2004] 2 AC 457; [2004] 2 WLR 1232; [2004] EMLR 247); Lord Philipps at the Court of Appeal agreed and added: 'the Act is certainly a cumbersome and inelegant piece of legislation'. Once you read the Data Protection Act 18 (DPA18) along with the applied General Data Protection Regulation (GDPR), then 'thicket' becomes a 'forest'. With this in mind, it is hard to understand why the Digital Culture Media and Sport (DCMS) has not released a copy of the 'applied GDPR' with the changes implemented by the government in the DPA18. For an unofficial copy of the 'applied GDPR', please contact GODPO.
Keywords: thicket; forest; GDPR; applied GDPR; Data Protection Act 2018; Convention 108
The full article is available to institutions that have subscribed to the journal
Already a subscriber?
Review these options
Author's Biography
Stephen Wilkinson is an industry expert with more than 20 years of successful experience. Steve stands at the forefront of the fastest moving world of data privacy. He has spent the past five years bringing about a shift from old style privacy awareness into the 21st century. Coming from a risk and compliance background, Steve is a person with a risk-based approach to data security systems and with deep privacy industry knowledge. Steve has championed the awareness for regulatory compliance for a number of years, promoting from small companies to providing information and recommendations to the regulatory authorities. Steve has been a prolific guest speaker at over 12 events within the past two years, mainly speaking on the effects of privacy and data protection. Steve has received numerous awards, one of which is being recognised as within the top 100 most influential people in the UK for pollution reduction, which demonstrates his diversity in work. Steve now runs a data privacy protection company that focuses on small and medium sized enterprises (SMEs), providing such things as a unique e-learning training systems for staff. Steve believes SMEs will need a helping hand with GDPR and privacy issues, as such companies will feel the full impact of the forthcoming GDPR, data privacy legislation.
Citation
Wilkinson, Stephen (2018, July 1). Are you ready for the applied GDPR?. In the Journal of Data Protection & Privacy, Volume 2, Issue 1.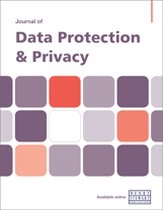 © Henry Stewart
Publications LLP