Case study
Monitoring of a low-energy home in New Zealand : A case study of a Christchurch superhome
Journal of Building Survey, Appraisal & Valuation, 7 (3), 275-287 (2018)
Abstract
Solar power is a critical component of New Zealand's energy supply by providing direct and complimentary energy to more people within the built environment and building resilience and sustainability into communities. A key factor in the successful uptake of solar onsite generation will be using solar with advanced technologies and home design practices. This will enable better built, healthier homes that save energy and create healthier environments during the coldest parts of the year. This paper provides a background to what is happening in New Zealand in comparison with Australia and the UK with regard to the uptake of solar PV and insulation. It documents a case study of a high-performance home in New Zealand, designed and built above the minimum Building Code of New Zealand requirements.
Keywords: healthier homes; solar PV power; energy consumption; insulation; thermal comfort; high performance
The full article is available to institutions that have subscribed to the journal.
Already a subscriber?
Review these options
Author's Biography
Bramantino Armiento is a candidate for a Master of Environmental Management degree at Massey University, New Zealand. Bramantino received his Bachelor's degree of International Studies, majoring in Environmental Studies, from IPC Tertiary Institute, New Zealand in 2014. His research interest mainly focuses on 'green' building operation.
Gregory Chawynski has over the past two years been working as an Industry Consultant – Expert Witness to the High Court of New Zealand. He is also currently the CEO of a volume building company located in Christchurch, New Zealand and has over 20 years' experience in both the New Zealand and Australian building industries. He is a past Secretary and President of the New Zealand Institute of Building (Central Chapter – Wellington), past President of the Manawatu Registered Master Builders Association, and past Board Member of the New Zealand Institute of Building (Southern Chapter – Christchurch). He is currently an Honorary Teaching Fellow within the School of Engineering and Advanced Design and a member of the Construction Programmes Advisory Board at Massey University in Auckland. His qualifications include a PhD, Master of Engineering, Graduate Certificate of Engineering (Performance Based Building Surveying), Bachelor of Technology (Building Surveying) and a Diploma of Managerial Excellence in Engineering & Construction. Professional memberships include Fellow of the Australian Institute of Building; and Member of New Zealand Institute of Building (and Chartered Building Professional), New Zealand Institute of Management Southern (Inc.), Australian Institute of Building Surveyors, Institute of Engineers Australia (Civil College), Australian Institute of Project Management and World Organization of Building Officials.
Robyn Phipps is a Professor in construction and leader of the Built Environment cluster at Massey University, New Zealand. Robyn's qualifications include a PhD, Bachelor of Architecture (Hons) and Bachelor of Building Science. Recent prizes and awards include the Women in Energy Award 2018, (finalist), the Helen Tippett Award (highly commended), National Association of Women in Construction (2017), Women of Influence 2017 Science and Technology (finalist), Fairfax Media and Westpac (2017 and 2016), NZIOB James Hardie Innovation Award 2016 highly commended for low-cost solar heating for schools, New Zealand Institute of Building (2016) and the New Zealand Prime Minister's Science Team Prize (2014). Robyn has expertise in the design and management of healthy buildings, indoor air quality, heating and ventilation. She is a Director of the New Zealand Green Building Council as Research and Policy Industry Group Director and Director of the award winning He Kainga Oranga Healthy Housing Research Group.
Corinne Mandin PhD is a researcher at the Scientific and Technical Centre for Building (CSTB) in Paris, France, which she joined in 2009. She is leading a group of 16 scientists involved in the activities of the French Observatory for Indoor Air Quality (OQAI). Created by the French authorities in 2001, the OQAI aims at setting up a permanent collect of data on indoor air and comfort in indoor environments. Corinne has been working as an expert for the World Health Organization (WHO) and the European Joint Research Center and she is an elected member of the International Society for Indoor Air Quality board of directors.
Eziaku Rasheed is a lecturer at Massey University, New Zealand. Her experience lies in research and teaching as well as industry practise. Eziaku supervises students at both undergraduate and graduate levels. She has a BSc degree in architecture, a MSc degree in construction project management and a PhD in architecture and is a past Science Policy Exchange Member for the Office of the Prime Minister's Chief Science Advisor (OPMCSA) in New Zealand. This government forum included emerging and early stage scientists and policy professionals interested in better understanding the nexus between public policy and science and enabled engagement on real public policy questions.
Citation
Armiento, Bramantino, Chawynski, Gregory, Phipps, Robyn, Mandin, Corinne and Rasheed, Eziaku (2018, December 1). Monitoring of a low-energy home in New Zealand : A case study of a Christchurch superhome. In the Journal of Building Survey, Appraisal & Valuation, Volume 7, Issue 3.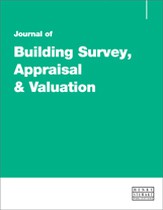 © Henry Stewart
Publications LLP