Research paper
Quantifying the impact of environmental conditions on worker performance for inputting to a business case to justify enhanced workplace design features
Journal of Building Survey, Appraisal & Valuation, 1 (2), 151-165 (2012)
Abstract
Despite the plethora of research showing the impact of environmental conditions on performance, the majority of UK businesses do not accept changes in productivity as part of the business case justification for improvements to the working environment. The authors' intention was to develop a practical methodology to help predict the potential gain in worker productivity that can be expected following design improvements. They carried out a literature review of productivity research and conducted a meta-analysis of 75 studies to quantify the impact of environmental conditions and design factors on performance. The unique aspect of the literature review is that the reported percentage changes in performance were weighted according to the relevance of the research study to real offices and office workers. The weightings converted the widely varying raw research results into what appears to be a more credible range of performance effects. The authors believe that their figures are ones that are more likely to be accepted by financial directors when used in building a business case. Due to the lack of rigorous multiple-factor studies, they proposed that the effect on performance of single factors can be added, but using a relationship based on the law of diminishing returns. Re-analysis of recent research of combined factors indicates that a 'two-thirds, one-third' rule of thumb may be appropriate. The authors believe that they have created a robust methodology for quantifying performance effects and using in the business case for workplace improvements.
Keywords: business; workplace; productivity; performance; review; benchmark; design
Author's Biography
Nigel Oseland is an environmental psychologist, workplace strategist, researcher, international speaker and published author with 11 years' research and 21 years' consulting experience. He advises occupiers on how to redefine their workstyles to provide workplaces that enhance individual and organisational performance. Nigel specialises in strategic briefing to create workspaces that improve collaboration, creativity and concentration while meeting psychological needs. To support his advice on workplace design, Nigel conducts independent research on key topics relevant to the workplace community, including psychoacoustics, environmental conditions, personality and personal preferences, interaction and collaboration and workplace loneliness.
Citation
Oseland, Nigel and Burton, Adrian (2012, July 1). Quantifying the impact of environmental conditions on worker performance for inputting to a business case to justify enhanced workplace design features. In the Journal of Building Survey, Appraisal & Valuation, Volume 1, Issue 2.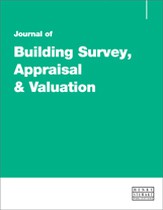 © Henry Stewart
Publications LLP