Practice paper
The 'Mind the Gap' project : Investigating the difference, in performance, between design and the building 'in-use'
Journal of Building Survey, Appraisal & Valuation, 7 (2), 112-125 (2018)
Abstract
We have the ability to design and construct high performance buildings and the knowledge and skills to operate them in an effective and efficient manner — so why does it not happen? The difference in performance between those predicted from the design and those found in actual operation are well documented.1,2 However, the underpinning reasons for this gap in performance are generally unknown; there is a lot of speculation and hypothesis but little investigation and hard evidence. This paper discusses the 'Mind the Gap' project aims to collect evidence from typical exemplars of office buildings which exhibit a range of performances; investigate the reasons for their performance; determine the underpinning causes; and then present practical solutions to solve any underperformance issues. The project, and hence the paper, is aimed at all those stakeholders involved in real estate sector; from portfolio investment and management through to individual building management including all associated professions and the often-forgotten building occupiers. The first phase of the project will produce a methodology based on the learnings from five trial buildings. This will be streamlined with the process then rolled out in a second phase over a larger number of buildings to produce a statistically significant sample which covers office buildings with a full range of servicing strategies and ages. This paper: introduces and explains the concept of the performance gap; describes the 'Mind the Gap' project and its methodology; presents some initial data and findings.
Keywords: performance gap; energy efficient; asset performance; operational performance; building portfolio management; facilities management; real estate
The full article is available to institutions that have subscribed to the journal
Already a subscriber?
Review these options
Author's Biography
Andy Lewry DIC, CEng, CSci, FIMMM, CEnv, MSocEnv, FEMA has 19 years' varied technical, marketing and management experience within the carbon and energy management industry, preceded by a further 10 years' similar experience within various parts of the environmental and construction sectors. Andy is a chartered engineer and a Fellow of both the Institute of Materials (IOM3) and the Energy Managers' Association, as well as a Prince 2 qualified project manager. He is currently the principal technical consultant for the BREEAM Existing Buildings Team in BRE Global. Andy has authored and published best practice publications on energy management, energy audits, building control and building energy management systems. Recently he produced guidance on 'Bridging the performance gap: Understanding predicted and actual energy use of buildings', Journal of Building Survey, Appraisal & Valuation, Vol. 3, No. 4, and 'Producing the business case for investment in energy efficiency', Journal of Building Survey, Appraisal & Valuation, Vol. 4, No. 1. He was also part of the UK Green Building Council's task group that produced the 'Delivering Building Performance' report on 11th May, 2016, which lays out the success factors and steps required to tackle the gap between building design and building performance.
Lorna Hamilton (senior statistician) currently leads on quantitative analysis aspects in BRE's Social Research Team. She has experience of analysing and modelling a wide variety of data and specialises in the application of generalised linear models for correlated data. She has worked with both large and complex data sets for a variety of government, European Commission and commercially funded projects.
Mindy Hadi is a chartered psychologist and registered occupational psychologist in the Building Futures Group who joined BRE in 1999. Her work focuses on the social aspects of sustainability and the employment of user-centred design to improve the built environment for the people who work, live and learn within it. She is experienced in both qualitative and quantitative psychological research methodologies and in facilitation and consultation techniques and leads BRE's Post occupancy evaluation (POE) team.
Jaie Bennett is an expert in Energy Audits & Management. He has been working within the Auditing & Energy Management profession for over 20 years and a further 10 years' experience within the Risk Management/Regulatory divisions of the Stock Market Financial Service. He has in-depth knowledge of sustainability issues including Energy Saving Opportunity Scheme (ESOS — Lead Auditor), Minimum Energy Efficiency Standards (MEES), Section 63 Action Plans (Scotland), Accreditation QA, Energy Performance Certificates, Display Energy Certificates, TM44 Air Con Inspections, Standard Assessment Procedures for New Build (SAP), Code For Sustainable Homes, BREEAM, System Audits ISO 14001 and 50001 (Lead Auditor). Over 12 years ago he founded GreenRock Energy to be a leading provider of high quality Energy Audits and Certification.
Richard Peters has a degree in Electrical Engineering and a Doctorate for research in Vertical Transportation. He is a director of Peters Research Ltd and a Visiting Professor at the University of Northampton. He has been awarded Fellowship of the Institution of Engineering and Technology, and of the Chartered Institution of Building Services Engineers. Dr Peters is the author of Elevate, elevator traffic analysis and simulation software.
Citation
Lewry, Andy, Hamilton, Lorna, Hadi, Mindy, Bennett, Jaie and Peters, Richard (2018, September 1). The 'Mind the Gap' project : Investigating the difference, in performance, between design and the building 'in-use'. In the Journal of Building Survey, Appraisal & Valuation, Volume 7, Issue 2.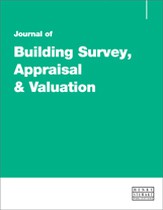 © Henry Stewart
Publications LLP