Practice paper
Tree-related risk to structures
Journal of Building Survey, Appraisal & Valuation, 8 (1), 38-52 (2019)
Abstract
Tree-caused subsidence is a major problem in Britain and has been for many years, with the cost to insurers running into hundreds of millions of pounds per year. Subsidence damage ranges from minor cracking to significant structural damage, meaning that trees are often viewed negatively for this reason, despite the benefits they provide. It is estimated that there are 150m urban trees in Britain, a significant proportion of which have statutory protection. This paper presents a factual account of the various components of subsidence, including a basic explanation of how trees function and how they use water in the context of clay soils, climate, building damage, the housing stock and tree management options. Recent case law in this area is placed in the context of the legal framework surrounding subsidence.
Keywords: subsidence; trees; vegetation; shrinkable clay; water use; climate; MORECS; pruning; reasonable foreseeability
Author's Biography
Dealga P. O'Callaghan BSc (Hons), PhD, FICFor, FArborA, MISA is an arboricultural consultant practising through his company, Dealga's Tree Consultancy Ltd, which is based in Liverpool. He holds an honours baccalaureate and PhD in the field of biology. Dealga is a Chartered Arboriculturist, a Fellow of the Arboricultural Association and an Honorary Life Member of the International Society of Arboriculture. He is an Adjunct Full Professor of Arboriculture and Urban Forestry at Clemson University in South Carolina, USA, and a visiting lecturer at the National Centre for Arboriculture, Myerscough, near Preston, Lancashire. Dealga has over 25 years' experience as an arboricultural consultant and considerable experience in the field of tree-related subsidence. He has given evidence in many cases in the English and Irish court systems and on the Isle of Man. Dealga has been instructed by both claimants and defendants and as a single joint expert.
Giles Mercer BSc (Hons) is an arboricultural consultant practising through his company, Arbor Consultancy Ltd, which is based in the Midlands. He holds a first-class honours degree in arboriculture and is a Professional Member of the Arboricultural Association. Giles has over 15 years' experience as an arboricultural consultant, the vast majority of which has involved dealing with vegetation-related clay shrinkage subsidence. He is currently undertaking research towards a PhD at Cranfield University in the area of clay soil dynamics and movement.
Citation
O'Callaghan, Dealga P. and Mercer, Giles (2019, June 1). Tree-related risk to structures. In the Journal of Building Survey, Appraisal & Valuation, Volume 8, Issue 1.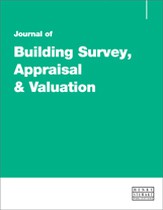 © Henry Stewart
Publications LLP