Practice paper
Machine-made mineral fibres: Their use, benefits and risks
Journal of Building Survey, Appraisal & Valuation, 1 (2), 114-122 (2012)
Abstract
According to the European Agency for Safety and Health at Work, machine-made mineral fibres (MMMF) are one of the top ten emerging health risks for workers within the EU. Worries over the possible health effects of MMMF are not new, although studies have generally failed to establish a link between cancer in humans and MMMF insulation other than in the case of refractory ceramic fibres and special purpose fibres that tend to be of smaller diameter than the materials commonly used within buildings. However, the picture is clouded owing to the use of different additives aimed at reducing biopersistence, which, in turn, makes the collection of reliable data from epidemiological studies difficult and sometimes unreliable. Given the move to greater insulation levels and reduced air leakage from buildings, more attention needs to be paid to indoor air quality and the possible contribution that insulation materials may play in this. MMMF, if used correctly, has a valuable role to play, but only with proper consideration of moisture management in a building. While MMMF uses a high proportion of recycled material in its manufacture, the opportunities for recycling used materials are less certain and may be problematic. Provided suitable measures are taken to reduce dust and prevent skin contact during installation and disposal operations, there are no significant risks to occupiers of buildings insulated with MMMF. Sensible precautions are however essential to limit the inhalation of respirable fibres.
Keywords: mineral fibre insulation; MMMF; carcinogen; indoor air quality
Author's Biography
Trevor Rushton is the Technical Director of Watts Group PLC and has over 25 years' experience as a chartered building surveyor, with particular expertise in building and material defects. He is a prolific writer, author and speaker on technical topics and is the editor-in-chief of the Watts Pocket Handbook. Trevor serves on the editorial boards of isurv and the Building Surveying Journal and is a regular contributor to the CPD Foundation and to RICS events. He is also an external examiner for Kingston University.
Citation
Rushton, Trevor (2012, July 1). Machine-made mineral fibres: Their use, benefits and risks. In the Journal of Building Survey, Appraisal & Valuation, Volume 1, Issue 2.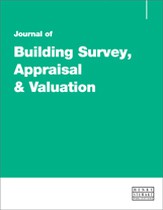 © Henry Stewart
Publications LLP