Practice paper
Inclusive ethical AI in human–computer interaction in autonomous vehicles
Journal of AI, Robotics & Workplace Automation, 1 (3), 294-307 (2022)
Abstract
Artificial intelligence (AI) used in autonomous vehicles (AV) to check for driver alertness is a critical piece of technology that makes the decision to hand over control to the human if there is a disengagement of the autonomous capability. It is important that this AI be inclusive without bias, because treating drivers differently will have an impact on the safety of humans not only in the vehicle but also on the road. This paper evaluates the AI that powers driver attention systems in the car to check if the AI treats all humans inclusively the same way beyond their ethnicity, gender and age, and whether it follows AI ethics principles of trust, transparency and fairness. Driver attention is built using two different AI models. One uses camera data to recognise humans and the other evaluates whether the human is alert. We found that both these AI models are biased and not inclusive of all people in all situations. We also found that there are unethical practices in how humans are tracked to check for alertness by using infrared sensors that track their retina movements without any concept of consent or privacy of people being tracked in the vehicles. The paper builds upon prior research on face detection outside the car and research that shows that car cognition AI does not recognise all humans on the road equally. We present research results about how the car is biased against some humans in its face identification and how the assertion of alertness of humans to hand over control during an emergency is fundamentally flawed in its definition of alertness. We recommend mitigation techniques and call for further research to build upon our work to make the AV inclusive with bias mitigation of bias in all forms of AI in AVs.
Keywords: autonomous cars; self-driving cars; driverless cars; bias; technology; robotaxi; driverless world; full autonomy; autonomous vehicles; ADAS; connected vehicles; data in the car; AI in the car; data; artificial intelligence; AI ethics; inclusive AI
The full article is available to institutions that have subscribed to the journal.
Already a subscriber?
Review these options
Author's Biography
Sudha Jamthe is a globally recognised technology futurist with a 20+ year mix of entrepreneurial, academic and operational experience in the technology industry. She brings focused research on the business of data with a futuristic lens on value creation from data, and ethical human-centred design of artificial intelligence (AI). Sudha is the author of six books and teaches Internet of Things (IoT), AI and autonomous vehicles business courses at Stanford Continuing Studies and at BusinessSchoolofAI.com. Sudha teaches AI ethics courses to three Master's programmes at Barcelona Technology School. She serves as the chair of the strategic advisory board for Barcelona Technology School and as an ambassador for FundingBox Impact Connected Cars (Europe H2020) Community and NGI. Sudha has an MBA from Boston University and BS in computer science engineering from Madras University.
Yashaswini Viswanath is the resident researcher at Business School of AI focused on responsible AI. She brings 10 years' experience in software engineering in intelligent automations at Mindtree. Her passion is to make artificial intelligence (AI) applications responsible and inclusive right at the data science research and engineering development stage. Yashaswini is the host of WeeklyWed, a global speaker series on AI. Her current research focus is on inclusive AI in autonomous vehicles (AVs), recommender systems and fairness analyser for data scientists. Yashaswini has BE in computer science from Visvesvaraya Technological University and is pursuing a Master's in AI at Reva Academy of Corporate Excellence, Reva University, Bangalore.
Suresh Lokiah is an Engineering Leader with more than 20 years experience from Silicon Valley. He was a pioneer in search engines from Altavista and Yahoo! and has helped build Internet of Things (IoT) solutions with cameras for Alarm.com, Arlo and now at Xperi. He has worked in consumer electronics at TiVo, leader in DVR technology. Suresh brings a penchant for solving complex problems and collaborating across engineering and business organisations to scale early-stage technologies to commercialised products to help society. He has been part of the evolution of technology industry from search engines to data solutions to AI and brings that knowledge to AI research across industries today. He has a BSc degree in physics from University of Madras, India.
Citation
Jamthe, Sudha, Viswanath, Yashaswini and Lokiah, Suresh (2022, March 1). Inclusive ethical AI in human–computer interaction in autonomous vehicles. In the Journal of AI, Robotics & Workplace Automation, Volume 1, Issue 3.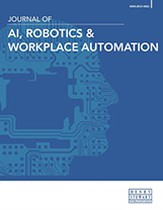 © Henry Stewart
Publications LLP