Practice paper
Scenario planning: A dynamic and collaborative tool for uncertain conditions
Journal of Airport Management, 16 (2), 114-124 (2022)
Abstract
Uncertainty demands a nimble approach to preparing for future conditions that are nearly impossible to forecast. Traditional airport planning vehicles such as master plans, strategic and business plans have long been the tools utilised by industry leaders to determine financial needs, identification of the physical infrastructure necessary to accommodate demand as well as the human capital and tactics required for a high-performance organisation. Traditional planning methods remain useful, valuable tools and serve a specific purpose to organise the efforts of an airport organisation in preparation for future conditions that can be reasonably predicted in a singular forecast or a range of forecasts. Scenario planning, in contrast, imagines a much broader range of futures than the typical forecast models are able to consider in traditional planning exercises. This tool has been used by numerous organisations including Royal Dutch Shell, for collaborative efforts among diverse teams to imagine numerous contrasting futures. The journey down the scenario planning pathway takes into consideration a broader range of influencing factors than most traditional planning efforts forcing a team to expand their aperture beyond the day-to-day information that drives decision making. Memories of the contrasting futures that are devised in this process rarely come to fruition in their entirety with fragments of each of the imagined futures more likely assembling to form the reality experienced by the team. Organisations are better equipped to react to events as they unfold with these memories formulated and top of mind, particularly during uncertain times. Many have come to find scenario planning as a powerful tool to drive creative thought processes and team dialogue with the results contributing to better-informed traditional planning exercises.
Keywords: Scenario planning; memories of the future; collaboration; brainstorming; leadership; strategy; resiliency
The full article is available to institutions that have subscribed to the journal
Already a subscriber?
Review these options
Author's Biography
Kevin R. Bumen has been leading airports and their communities to economic success for nearly two decades. He has overseen critical capital improvement projects, delivered record-breaking enplanement growth and helped create aviation policies at local, state and federal levels. Mr Bumen currently serves as the Chief Commercial Officer at San Francisco International Airport. He leads the airport's, aviation management, revenue development, parking and hotel (Grand Hyatt) teams. Previously, he served as the Director of Airports for San Luis Obispo County from 2013 to 2019. While in San Luis Obispo, he directed the design, funding and construction of 58,000 sq. ft replacement terminal for SBP. Mr Bumen also dramatically increased air service to the region, with the addition of six new routes, eight daily flights and two new airlines. These efforts resulted in a 20 per cent year-over-year enplanement growth and marked SBP as one of the 10 fastest-growing airports in North America. Prior to his tenure in San Luis Obispo, Mr Bumen spent more than 10 years serving the Truckee Tahoe Airport (TRK). As the Director of Aviation and Business Services for the California Special District airport, Mr Bumen oversaw aspects of the airport's finances and operations, including airport properties, aviation services, marketing and public relations. Mr Bumen has extensive experience serving on nonprofit, civic and industry boards. He is Past President of the California Airports Council and is currently serving on the Board of the American Association of Airport Executives and Airports Council International – North America. He has previously served on Boards for Cal Poly San Luis Obispo and the Salvation Army. Mr Bumen developed a love of aviation from his father, an Air Force pilot. He is an instrument-rated private pilot with more than 25 years of aviation experience. Mr Bumen earned his Bachelor of Science from Cal Poly San Luis Obispo and is an Accredited Member of the American Association of Airport Executives.
Michael D. Hotaling is Senior Vice President of C&S Engineers, Inc. and is responsible for leading the company's aviation practice of 115 technical and support personnel with offices in Arizona, California, Florida, Illinois, Kentucky, Michigan, New York, Ohio, Pennsylvania and Washington. He is passionate about aviation and has dedicated his entire 31-year professional career to providing professional consulting services to airport sponsors. His areas of technical expertise include programme management, master and environmental planning, community outreach, noise mitigation programmes and stakeholder engagement. Michael's project work experience spans a wide range of aviation facilities from large-hub to general aviation airports. Michael has a Bachelor of Science degree in Aircraft Engineering Technology from Embry-Riddle Aeronautical University in Daytona Beach, Florida, and lives in San Diego, California.
Citation
Bumen, Kevin R. and Hotaling, Michael D. (2022, March 1). Scenario planning: A dynamic and collaborative tool for uncertain conditions. In the Journal of Airport Management, Volume 16, Issue 2.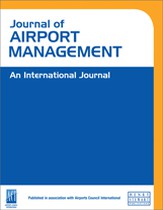 © Henry Stewart
Publications LLP