Research paper
Critical raw materials and cities: A literature review
Journal of Urban Regeneration and Renewal, 15 (1), 71-82 (2021)
Abstract
This paper asks what is the relationship between critical raw materials and cities within the European Union (EU)? To answer this question, this study seeks to categorise research findings on critical raw materials through a literature review. For this purpose, publications about critical raw materials have been systematically searched using a multidisciplinary scientific bibliographic database. Several screening criteria were applied to ensure the utmost accuracy and specificity in the development of research. During the review, the papers and the other publications found were systematised by dividing them into three thematic sections according to the focus adopted: critical raw materials as pollutants; their recycling; and the new technologies that can be applied to them. The results of the review show that the development of cities and their regeneration will increasingly depend on critical raw materials. Moreover, these findings suggest that soon the professionals who deal with urban regeneration and renewal will have to manage more and more issues related to critical raw materials. Furthermore, a correct understanding of the relationship between critical raw materials and cities is essential to avoid manipulation by populist parties which could use these strategic materials to support their autarchic rhetoric.
Keywords: critical raw materials; cities; populism; European Union (EU); recycling; pollution; new technologies
Author's Biography
Andrei Țăranu is full Professor of Political Science at the National University of Political Studies and Public Administration in Bucharest, Romania, where he is also Vice Dean of the Faculty of Political Science. His main area of expertise lies in contemporary political ideologies; in recent years his interest and his investigations, testified by numerous publications, have focused on the development of populist parties and movements both at a national and urban level.
Daniela La Foresta is full Professor of Geography in the Department of Political Science of the University 'University of Naples Federico II, Italy, where she is also member of council for the PhD in Cohesion and Convergence Policies in the European Scenario. Her scientific activity, attested by more than 70 publications, focuses mainly on the geography of innovation, territorial development and urban studies. She is also in charge of the internationalisation activities of the Department of Political Sciences, President of the Joint Students-Teachers Commission, member of the University 'Federico II' Erasmus Commission and coordinator of a double degree with the State University of Gori, Georgia. She is a member of the scientific and editorial boards of numerous national and international journals and a member of the scientific committee of the think tank 'Europe Our House'.
Andrea Cerasuolo is a PhD student in Cohesion and Convergence Policies in the European Scenario in the Department of Political Science of the University of Naples Federico II, Italy. He graduated from the same university with honours in 2017 with a master's in international relations and scenario analysis. In 2019 Andrea earned cum laude in a second level specialisation course in geopolitics and global security at the University of Rome 'La Sapienza' with the thesis 'The Geopolitics of Rare Earths'. Together with Daniela La Foresta, he has recently published a research article on the economic-financial dimension of the dispute over rare earths in the Italian peer-reviewed journal Overlandgeo.
Citation
Țăranu, Andrei, Foresta, Daniela La and Cerasuolo, Andrea (2021, September 1). Critical raw materials and cities: A literature review. In the Journal of Urban Regeneration and Renewal, Volume 15, Issue 1.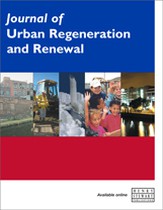 © Henry Stewart
Publications LLP