Practice paper
Russia sanctions and considerations in building a sanctions compliance programme
Journal of Financial Compliance, 4 (4), 298-312 (2021)
Abstract
The United States has maintained economic sanctions against Russia since 2014, when Russia annexed the Crimea Region of Ukraine. Over time, these sanctions have developed into one of the most complex sanctions programmes, consisting of a complicated web of trade controls that includes blocking sanctions, geographical restrictions on the Crimea Region, sanctions targeting specific sectors, export controls and the potential for sanctions on non-US Persons conducting transactions with US nexuses and even sometimes with non-US nexus, contrary to US foreign policy objectives. The challenge to adopt and implement appropriate compliance programmes is impacted by the fact that Russia sanctions affect both entities and individuals that are not directly subject to US jurisdiction. For example, transactions processed in US dollars but that otherwise do not involve US parties or counterparties may be subject to Office of Foreign Assets Control (OFAC) sanctions if a US financial institution processed or funded the transaction; additionally, US jurisdiction may be triggered by non-US Persons conducting certain 'significant transactions' with sanctioned persons and jurisdictions. This paper sets forth an overview of Russia sanctions, as well as recommendations to mitigate exposure to potential violations.
Keywords: economic sanctions; Russia sanctions; sectoral sanctions; compliance programme; beneficial ownership; OFAC
The full article is available to institutions that have subscribed to the journal
Already a subscriber?
Review these options
Author's Biography
Cari Stinebower is a member of Winston & Strawn's White Collar, Regulatory Defense and Investigations Practice in the firm's Washington, DC, office. She also works closely with colleagues in the Global Privacy and Data Security Practice, Financial Services, Corporate and Complex Commercial Litigation groups. Cari counsels clients on compliance with US economic sanctions, Bank Secrecy Act and anti-money laundering (AML) laws and regulations, export controls and anticorruption/ anti-bribery laws and regulations. She works with financial institutions and multinational corporations to develop compliance programmes, conduct AML and Office of Foreign Assets Control (OFAC) risk assessments, conduct internal investigations, respond to government investigations and address potential conflicts of law arising from non-US data privacy and 'blocking' laws and regulations. Cari also works with industry groups to develop sanctions and AML best practices policies and procedures. Cari served as counsel for the US Department of the Treasury's OFAC and as a Programmes Officer for OFAC, where she advised on sanctions and antiterrorism legislation, drafted United Nations Security Council resolutions and related executive orders. Cari acted as agency counsel in Treasury's defense for a number of challenges to OFAC's authority, whether in litigation related to enforcement actions or in response to congressional investigations. As a result of her work at Treasury, Cari received the Secretary of the Treasury's Certificate for her role in providing guidance in the war against terrorism, establishing a programme targeting the Taliban, working with the interagency group to unwind the first sanctions targeting the government of Libya and drafting the Foreign Narcotics Kingpin Designation Act. Cari is a frequent writer and speaker on sanctions, AML and anticorruption/anti-bribery-related issues and has been quoted in publications such as the Wall Street Journal, the New Yorker, Reuters, Bloomberg and MoneyLaundering.com. She is a member of the American Bar Association's Gatekeepers' Task Force and a Vice-Chair of the ABA's Anti-Money Laundering subcommittee. Cari has been a guest lecturer at Yale University, Georgetown Law School and the University of Zurich.
Dainia Jabaji provides financial crimes compliance counselling and investigation services to the United States and international financial institutions, Fintech companies, non-financial institutions and more. Dainia frequently assists clients in matters involving US economic sanctions, the Bank Secrecy Act (BSA) and other AML laws and regulations. Dainia provides financial crimes compliance guidance at all stages — from proactive counselling and implementing policies and procedures, to conducting investigations, recommending remediation and drafting regulatory disclosures. She also assists clients in responding to and investigating circumstances surrounding grand jury subpoenas related to financial crimes. Prior to joining Winston, Dainia worked at one of the world's largest financial institutions where she drafted financial crimes-related policies and procedures, conducted AML assessments, led multi-jurisdictional sanctions investigations and drafted regulatory disclosures. Dainia's previous experience provided her with an in-depth understanding of the complexity of financial institutions and their internal structures, international payment processing, local and global financial crimes policies and procedures and complex and ever-changing government regulations and requirements. Bringing that experience to Winston, Dainia not only assists financial institution clients in these areas but frequently assist non-financial institution clients as well who seek to implement sanctions or AML programmes or who seek counsel with respect to internal or external financial crimes investigations.
Mariana Pendás-Fernandez is admitted only to New York and Spain. Her application is pending for the DC Bar. Currently she is practicing law in the District of Columbia under the supervision of principals of the firm who are members in good standing of the DC Bar. Mariana Pendás is a member of Winston & Strawn's White Collar, Regulatory Defense and Investigations Practice in the firm's Washington, DC, office. Mariana is a dualqualified lawyer in Spain and New York. Mariana's background and experience in civil and common law helps multinational clients to navigate the US and European economic sanctions, as well as AML and anticorruption/anti-bribery laws and regulations. Mariana's practice has a special focus on Latin America, and she has been recognised as a 'Rising Star' and named to 'Top 100 Female Lawyers' for international trade matters and international arbitration by Latinvex. She assists US clients on various aspects of US sanctions, including the exploration of the Cuban market, US Venezuela-related sanctions and counter narcotics trafficking in Mexico. In addition, she was the lead associate in an Foreign Corrupt Practices Act internal investigation relating to a multinational company subsidiary in Argentina. Prior to joining, Mariana worked in international arbitration for a well-regarded international law firm in Paris and a well-known Spanish law firm in Madrid. Mariana was a key member of the arbitration practice, where she participated in several arbitrations before the International Chamber of Commerce in Paris. Mariana has also experience in preparing and conducting Spanish national court and arbitration proceedings before Spanish arbitration institutions. Additionally, Mariana maintains an active pro bono practice. She has represented clients in asylum cases requiring Spanish and French language capabilities and is currently representing a US foundation for the enhancement of the performing arts in Cuba.
Citation
Stinebower, Cari, Jabaji, Dainia and Pendás-Fernandez, Mariana (2021, June 1). Russia sanctions and considerations in building a sanctions compliance programme. In the Journal of Financial Compliance, Volume 4, Issue 4.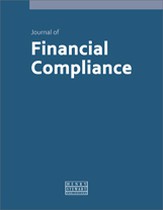 © Henry Stewart
Publications LLP