Case study
Chipping away at the granite mountain: Challenges in transitional leadership for system change
Management in Healthcare: A Peer-Reviewed Journal, 5 (2), 102-114 (2021)
Abstract
The University of South Alabama (UoSA) has a mission to deliver health care to the underserved community and provide for the education of future paediatric healthcare providers. Previously, the UoSA paediatric residency ambulatory clinic had a large percentage of missed appointments or 'no-shows', which hampered the revenue cycle, patient care and education of medical students and paediatric physicians in training. UoSA has since opened the door to enhance paediatric patient flow through the implementation of 'on demand' or an open access scheduling system. Open access scheduling has decreased the number of missed appointments. In addition, the volume of phone calls for families attempting to schedule future appointments also decreased in a short time. The implementation of this system involved an internal analysis performed on the problems that obstructed the clinics' performance. Under new leadership, the clinic created a new system of templates and schedules that accelerated the rate at which patients were seen and enforced individual responsibility among resident physician providers and advanced paediatric practitioners (APP). Scheduling changes included appointment templates that incorporated 'wave' scheduling and staggered start times. Implementation of these templates increased the number of available appointments or open access and decreased the number of no-shows. The number of incomplete charts decreased, resulting in an improved revenue cycle, as evidenced by collections. Residents were also given educational resources and visual reminders to improve the accuracy and consistency of billing and coding procedures. The educational efforts addressed the knowledge deficit about billing and coding, increasing the number of encounters that were documented as moderate complexity. The educational components consisted of reading papers and applying knowledge to billing and coding case scenarios or vignettes. In addition, billing and coding practices were reviewed in detail during patient encounters to provide instantaneous feedback. Overall, the clinic had improved access to patient care and a decreased number of missed appointments and missed billing opportunities, leading to improved collections. Some of the issues discussed in this paper include chaotic clinic scheduling, incomplete charts affecting billing and revenue cycle, large numbers of no-shows for appointments, lack of resources due to a negative budget and a need for educating residents about billing and coding.
Keywords: patient access; scheduling; revenue cycle; ambulatory clinic; redesign; education
The full article is available to institutions that have subscribed to the journal.
Already a subscriber?
Review these options
Author's Biography
Curtis W. Turner , MD, is Professor of General Pediatrics and Pediatric Hematology and Oncology at the University of South Alabama (UoSA), where he has been a faculty member since July 2016. He has been a physician for 34 years and has practised in both academic medical centres and privately. Previously, he served as Pediatric Residency Training Director and Associate Dean of Faculty Development and Affairs at Texas Tech University at Amarillo, Texas. Currently, as Medical Director of the General Pediatrics Ambulatory Division at UoSA, he has implemented clinical changes to provide open access scheduling, enhance resident performance (reversing a trend of decreasing annual visits) and improve the revenue cycle.
Citation
Turner, Curtis W. (2021, December 1). Chipping away at the granite mountain: Challenges in transitional leadership for system change. In the Management in Healthcare: A Peer-Reviewed Journal, Volume 5, Issue 2.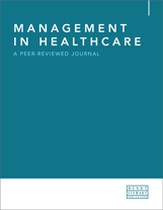 © Henry Stewart
Publications LLP