Research paper
Sustainability issue communication and student social media engagement: Recommendations for climate communicators
Journal of Digital & Social Media Marketing, 8 (3), 277-290 (2020)
Abstract
This study explores the digital and social media information habits and preferences of students, particularly as they concern issues-based communication relating to climate change and sustainability. Researchers surveyed 203 undergraduate students studying a wide range of subject areas in a small Canadian liberal arts style university. Results were analysed using basic statistics to determine broad trends in social and digital media use among participants, their assessment of what kinds of content they found engaging online and their preferences relating to searching and sharing information on news and issues. Different environmental messages were also assessed by participants for whether they were engaging. Participants used a wide variety of platforms, in diverse locations, but demonstrated a tendency to use Google and YouTube most often to search for issues about which they cared. Respondents indicated a preference for image or video-based content, and also indicated that images and videos made a website more attractive. They generally reported not sharing news on social media, and tended to rate environmental messages with a problem-solution framework as most engaging. This study suggests that climate-change related issue marketing should favour YouTube and other video content, and should pay close attention to how environmental messages are presented in order to be most engaging to their target audiences.
Keywords: social media; issue marketing; uses and gratifications; climate change marketing; sustainability marketing
The full article is available to institutions that have subscribed to the journal
Already a subscriber?
Review these options
Author's Biography
Jaigris Hodson is an Associate Professor in the College of Interdisciplinary Studies at Royal Roads University. Her research concerns online information flows and the ways social media and digital communication technologies can be leveraged to support communication in the public interest. She has previously worked as a Mitacs Canadian Science Policy Fellow, where she was embedded with Environment and Climate Change Canada, recommending strategies for the effective communication of climate science to the public.
Ann Dale is Director of the School of Environment and Sustainability at Royal Roads University, and is a former Canada Research Chair and Trudeau Fellow Alumna. Professor Dale's current project — National Environmental Treasure — uses social and digital media tools to educate the public about the importance of biodiversity to the future of the planet.
François Jost Francois Jost is a postdoctoral researcher in the School for Environment and Sustainability at Royal Roads University. François has conducted trans-disciplinary analyses using participatory action research with rural communities to identify sustainable adaptation and mitigation strategies. His current project is 'Meeting the Climate Change Challenge (MC3)', which investigates local government planning for climate change adaptation, mitigation and resiliency.
Jaime Clifton-Ross is a research associate and associate faculty member in the School of Environment and Sustainability at Royal Roads University. She is currently the communications lead on the National Environmental Treasure project, overseeing the communication strategy and development of social and digital media messaging across a variety of platforms. She also teaches environmental communication at Royal Roads University and has experience in both digital and analogue curation practices.
Citation
Hodson, Jaigris, Dale, Ann, Jost, François and Clifton-Ross, Jaime (2020, December 1). Sustainability issue communication and student social media engagement: Recommendations for climate communicators. In the Journal of Digital & Social Media Marketing, Volume 8, Issue 3.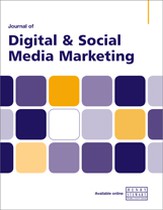 © Henry Stewart
Publications LLP