Practice paper
Ain't Nothin' Goin' On But the Rent? : Or, How do you make a loss of rent claim work? — Part 1
Journal of Building Survey, Appraisal & Valuation, 7 (4), 364-376 (2019)
Abstract
This two-part paper specifically considers a landlord's ability to include in a claim for damages at the end of a lease a sum representing the loss of the rent the landlord would otherwise have been able to receive from a new tenant, had the outgoing tenant not delivered up the premises out of the covenanted for state and condition. The paper considers and contrasts the conceptual basis for such claims and discussing the conceptual issues arising from the special rules in respect of claims for damages for disrepair properly so-called, which flow from the case of Joyner v. Weeks and the Landlord and Tenant Act 1927, Section 18. The paper proposes a solution for the difficulties these special rules cause in respect of the general law of causation in damages claims. The paper examines both the legal and the valuation challenges in mounting such claims. It gives particular attention to the difficult issues arising with: the length of the period necessary to market the premises, even if they were in repair; the impact of a landlord being unwilling or unable to undertake repair works until the market has improved; and the position of a landlord who wishes to occupy the premises himself. The paper concludes with a practical, step-by-step procedure for the calculation of such claims (which is also conveniently summarised in a flowchart). This is intended to guide practitioners through the process of making such a claim as simply as possible. Part two of this paper will appear in Journal of Building Survey, Appraisal & Valuation Volume 8 Number 1.
Keywords: terminal dilapidations; damages; loss of rent
The full article is available to institutions that have subscribed to the journal.
Already a subscriber?
Review these options
Author's Biography
Richard Kay FRICS qualified in 1996, after obtaining an honours degree in urban land economics. He is senior partner at Beckett and Kay, a firm he founded with Peter Beckett in 2002. Peter is now a consultant and Henrietta Hammonds joined as a partner in 2016. The firm deals with both commercial and residential property, specialising in landlord and tenant matters, with particular expertise in the fields of valuation in dilapidations cases, leasehold enfranchisement, and valuations in restrictive covenant cases ('s84'). The firm is based in the City of London but acts throughout England and Wales and has recently been involved in several valuation cases in Scotland. Richard is a Fellow of the Royal Institution of Chartered Surveyors (RICS) and an RICS Registered Valuer. He is a member of the RICS Dilapidations Forum Steering Group (2008–12 and re-elected in 2018). As a trainee surveyor, he had involvement in the leading case on dilapidations, Shortlands Investments v Cargill, and more recently appeared at the Central London County Court as the tenant's valuer in Anstruther v Vidas, a case touching on multiple issues concerning valuation in dilapidations claims. Richard also has long-standing experience in leasehold enfranchisement matters, including many appearances as an expert witness at the First-tier Tribunal (Lands Chamber) (formerly the LVT) for landlords, intermediate landlords and tenants. He appeared as an expert witness at the Lands Tribunal (now the Upper Tribunal [Lands Chamber]) in the Nailrile appeals on behalf of the tenants and intermediate landlord of 62 Cadogan Square, London SW1.
Nic Taggart has been consistently rated as a 'top-tier' junior for real estate litigation by both Chambers and Partners and Legal 500 for over 12 years and was Chambers and Partners' Real Estate Litigation Junior of the Year 2011. He deals with all aspects of commercial real estate work, with an emphasis on work involving valuation disputes, such as dilapidations, lease renewals under the Landlord and Tenant Act 1954 and rent reviews. Being at heart an anarchist, he is also a dab hand at 'Ground (f)' claims under the 1954 Act, although he feels more comfortable talking about demolition than reconstruction. Nic is often involved in the sort of cases no one else in Chambers really wants to do, involving recherché matters such as the Electronic Communications Code, manorial and riparian rights and drainage. Nic is an editor of Hill & Redman's Law of Landlord and Tenant, on the editorial board of The Conveyancer, a co-opted member of The Law Society's Conveyancing and Land Law Committee, an equally co-opted member of the RICS Dilapidations Forum Steering Group, a contributor to Bullen, Leake & Jacob's Precedents of Pleadings and a sometime visiting lecturer in property law at both the London School of Economics and the University of Oxford.
Citation
Kay, Richard and Taggart, Nic (2019, March 1). Ain't Nothin' Goin' On But the Rent? : Or, How do you make a loss of rent claim work? — Part 1. In the Journal of Building Survey, Appraisal & Valuation, Volume 7, Issue 4.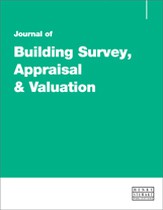 © Henry Stewart
Publications LLP