Practice paper
BIPV solutions in district renovations towards nearly zero-energy cities
Journal of Building Survey, Appraisal & Valuation, 5 (2), 180-190 (2016)
Abstract
The current building stock is formed by about 160 million buildings in EU-25 (the 25 EU member states up to 31st December 2006) that represent about 40 per cent of the energy consumption, and 36 per cent of the EU's total CO2 emissions. The construction of new buildings represents only 1–1.5 per cent of the building stock,1 so the focus needs to be put on renovation of existing buildings to achieve substantial impact in energy saving and GHG reduction. In this sense, the purpose of R2CITIES project, funded by the European Commission through its Seventh Framework Programme, is to develop and demonstrate replicable strategies for designing, constructing and managing large-scale district renovation projects in order to achieve nearly zero-energy cities. These results will open the way for new refurbishments on a European scale within the framework of new urban energy planning strategies. One of the innovations of R2CITIES is the implementation of Building Integrated Photovoltaic Solutions (BIPV)2 for districts retrofitting, used for replacing conventional building materials which have the advantage of generating electricity, while at the same time providing passive benefits such as heat insulation, daylight entrance and acoustic comfort. Onyx Solar has studied the behaviour of the PV ventilated façade in three European demonstration sites located in Kartal (Turkey), Genoa (Italy) and Valladolid (Spain). In addition, it is expected to obtain an innovative urban mobility concept related to the renovation at district level focused on the development of a PV parking lot for public lighting and charge of electric vehicles. This paper is focused on explaining the main BIPV solutions and their application for R2CITIES.
1Leonardo Energy, 'Connecting Energy Technologies, Policies and Markets', available at: http://www.leonardo-energy.org (accessed 1st October, 2016).
2EU Commission (2015), R2CITIES 'Annex I: Description of Work (after amendment), Gran Agreement no. 314473', Seventh Framework Programme.
Keywords: BIPV; R2CITIES; districts energy retrofitting; sustainable urban mobility; photovoltaic parking lot
The full article is available to institutions that have subscribed to the journal
Already a subscriber?
Review these options
Author's Biography
David Martin is a civil engineer from the University of Madrid and M.Sc in International Trade from ESIC Business & Marketing School. He has worked as a project engineer for several years and has been consistently involved with civil engineering and building sectors. He is based at the R&D department of Onyx Solar where he is responsible for the management of R&D activities and their dissemination activities scientific publications in journals of reference, articles and presentations in national and international events. Furthermore he takes part in technical and administrative management of R&D projects, collaborates in project proposals preparation for national and European progammes and is in charge of the management of other grants related to the internationalization of the company.
Elena Rico holds a degree in chemistry from the University of Salamanca. She worked as a researcher at the Inorganic Chemistry Department of the University of Salamanca. She is author/co-author of many scientific articles in journals of reference and she has contributed with several presentations to national and international congresses. After her Third Cycle Studies at the same university corresponding to the "Chemical Technologies and Reactivity" program, she moved to London. In 2013 she took part in the GESTIDI Programme promoted by Junta Castile-Leon combining theory and practical training for R&D Project Management. Nowadays, she has overall responsibility for ONYX R&D Department, being in charge of the management of all R&D Projects (H2020, FP7, LIFE, CDTI, MINECO and ADE) the preparation of new proposals and the coordination of all activities in the department. She represents ONYX as Secretary of Boards of Directors at CYLSOLAR CLUSTER.
Isabel Sánchez is an architect from the University of Valladolid and Master's Degree in sustainable architecture and energetic Efficiency at Ramón Llull-La Salle University of Barcelona. She also has a Master's Degree in Energy: Generation, Management and Efficient Use from the University of Valladolid. She has worked in several architectural firms developing architectural projects and collaborating with engineering in building energy rehabilitation. She is currently based at the ONYX R&D Department and is specialist on building simulation using Design Builder, Revit and Ecotect tools.
Cristina Fernández holds a degree in architecture from the Polytechnic University of Madrid, a master's degree in International Business Administration by CECO (Economical and Commercial Studies Center) and master's degree in Occupational Risk Prevention from UNIR. She currently works at Onyx Solar Energy developing technical consulting in the design and installation of BIPV solutions and collaborating in R&D projects (7°FrameWork Project called R2CITIES Renovation of Residential urban Spaces: Towards nearly Zero Energy Cities & LIFE 2011 project called Model for a Green Energy Autonomous Office Building). She has wide international work experience as technical advisor for the Spanish Embassy in Vietnam and as an Architect in Poland and Spain.
Teodosio Del Caño holds a PhD in physics from the University of Valladolid, has been visiting scholar at the University of Windsor (Canada) and Post-Doctoral Fellow at ASIC (Advanced Science and Innovation Centre) in Osaka and he was awarded the Young Scientific Award in 2002 by The European Materials Research Society. Dr. Del Caño is author/co-author of more than 25 scientific articles in journals of reference, has contributed with more than 30 oral presentations and invited talks in international conferences and also he has coordinated more than 10 Regional, National and European R&D projects in materials science and application of semiconductors in optoelectronics. Dr. Del Caño collaborates as consultant with a number of investment funds of Reference, green companies and PV companies. He is considered an expert in BIPV, Green Building and Energy Efficient Retrofit. He is currently Chief Technical Officer of ONYX.
Citation
Martin, David, Rico, Elena, Sánchez, Isabel, Fernández, Cristina and Del Caño, Teodosio (2016, September 1). BIPV solutions in district renovations towards nearly zero-energy cities. In the Journal of Building Survey, Appraisal & Valuation, Volume 5, Issue 2.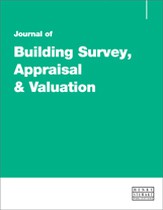 © Henry Stewart
Publications LLP